Put Your PESTEL to the Mettle
Part 1 of 7
Going International? Do Your PESTEL Analysis First
PESTEL is an acronym for an often utilized analysis that considers the external macroeconomic influences on a business and its products or services: Political, Economic, Social, Technological, Environmental, and Legal. We refer to these as external factors because they fall outside the firm's control.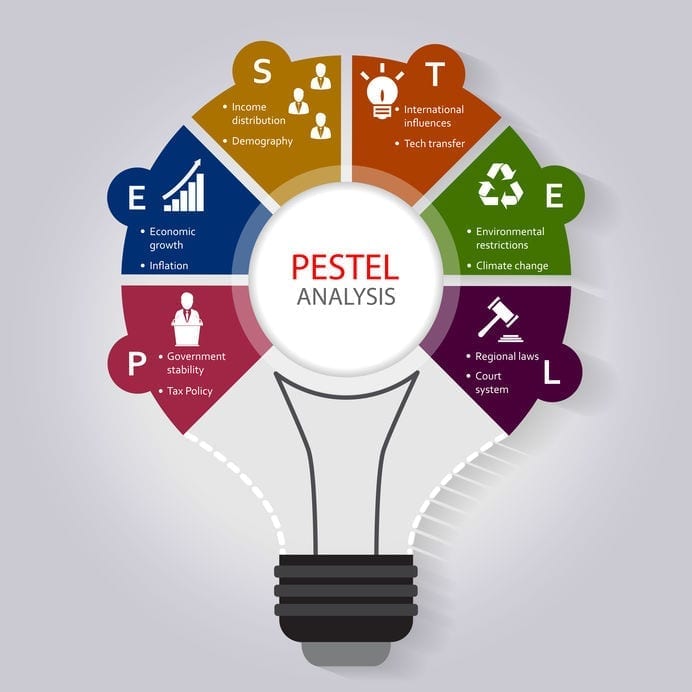 If your business is U.S. based, you may not have heard of a PESTEL analysis nor prepared one because, broadly speaking, there is more macroeconomic stability in the U.S. than in other countries. However, many U.S. companies that are considering overseas expansion or perhaps exporting products abroad will often prepare a PESTEL.
PESTEL analyses are frequently requested by bankers and investors when considering a loan or investment. Think about it: would you want to make a loan to a company located in a country where there are foreign exchange controls that make it difficult to repatriate your money when the loan comes due? How should bankers and investors consider loans and investments to businesses with significant operations in the U.K. that could be negatively impacted by the ultimate outcome of the Brexit negotiations? It might be challenging to raise capital for a new oil refinery when the political, social, and environmental factors suggest that the future is in clean energy.
In the coming weeks, watch this space for our PESTEL article series, which will carefully examine each of the six factors that make up a PESTEL analysis as well as anecdotes of how these external factors have affected the business decisions of our clients, bankers, and investors. This article is the first in the series; what follows is a brief overview of each PESTEL factor:
Political – Political factors relate to how a government can influence or intervene in a specific industry or even into an entire economy. When considering political factors, business leaders must think about the potential for political change, tax laws, trade policy, and many other issues and how they impact business today and in the future.
Economic – Economic factors are issues that can impact the performance of an economy. The impact of GDP growth prospects, interest rates, inflation, unemployment, and other economic factors must be carefully evaluated.
Social – Social factors consider demographics, local customs, age ranges of the population, work/life customs, religious considerations, and others. Consider how, in Muslim countries under Shariah law, banks may not charge interest on loans or pay interest on deposits.
Technological – Technological factors are matters that are impacted by innovation, technological obsolescence, automation, technology literacy, and incentives for research and development. If you think that incentives for R&D should be a political factor as well, and you are correct.
Environmental – Environmental factors have become much more important than they were perhaps 20 years ago. Issues such as scarcity, sustainability, climate, and ecology are now top of mind for virtually every CEO and Board of Directors worldwide.
Legal – Legal factors might include laws related to anti-trust, equal rights and equal pay, consumer protection, intellectual property, and safety, to name a few. Some countries have too many laws and regulations, while others need more to provide a more stable business environment. We suggest that before expanding overseas, it is best to consult a local attorney in the country into which you intend to expand.
This list barely scratches the surface of the topics that might be considered when performing a PESTEL analysis. For a complete list, see B2U for a list of nearly 100 different PESTEL topics.
We recently completed a successful 3-month engagement for a banking client located in East Africa. The purpose of the engagement was to prepare a 5-year plan for growth to be submitted to the bank's Board of Directors. Our work included a PESTEL analysis at the request of the bank's external auditor.
We are often asked if a PESTEL analysis is used as a standalone document or if it is incorporated in a company's business plan. It can be both. You are always welcome to contact us if you would like assistance with your PESTEL analysis or business plan.
Other Articles in the PESTEL Analysis Series