How to Conduct a Marketing Asset Assessment
How to Write a Marketing Plan, Part 5
Once you've defined your business' goals, your target audience, and analyzed your competition, it's time to get to work on evaluating your assets.
An asset assessment, or marketing audit, is a detailed, comprehensive review of your business's marketing plan, objectives, current activities, and strategies. Conducting a marketing audit is an invaluable part of your marketing plan because you will be learning from your actual past efforts, which will ideally result in a more streamlined marketing plan moving forward.
It can be easy to lose sight of the big picture as you get bogged down with the day-to-day details of running a small business. An asset assessment will help you refocus and re-evaluate your long-term goals and how your marketing efforts support them. This helps ensure your business is still aligned with your objectives and cuts any marketing activities that are not aligned with your goals.
Taking an audit of your marketing activities will allow you to cull unnecessary projects that aren't producing. This will save money and help you save time by redirecting efforts to activities that serve the business.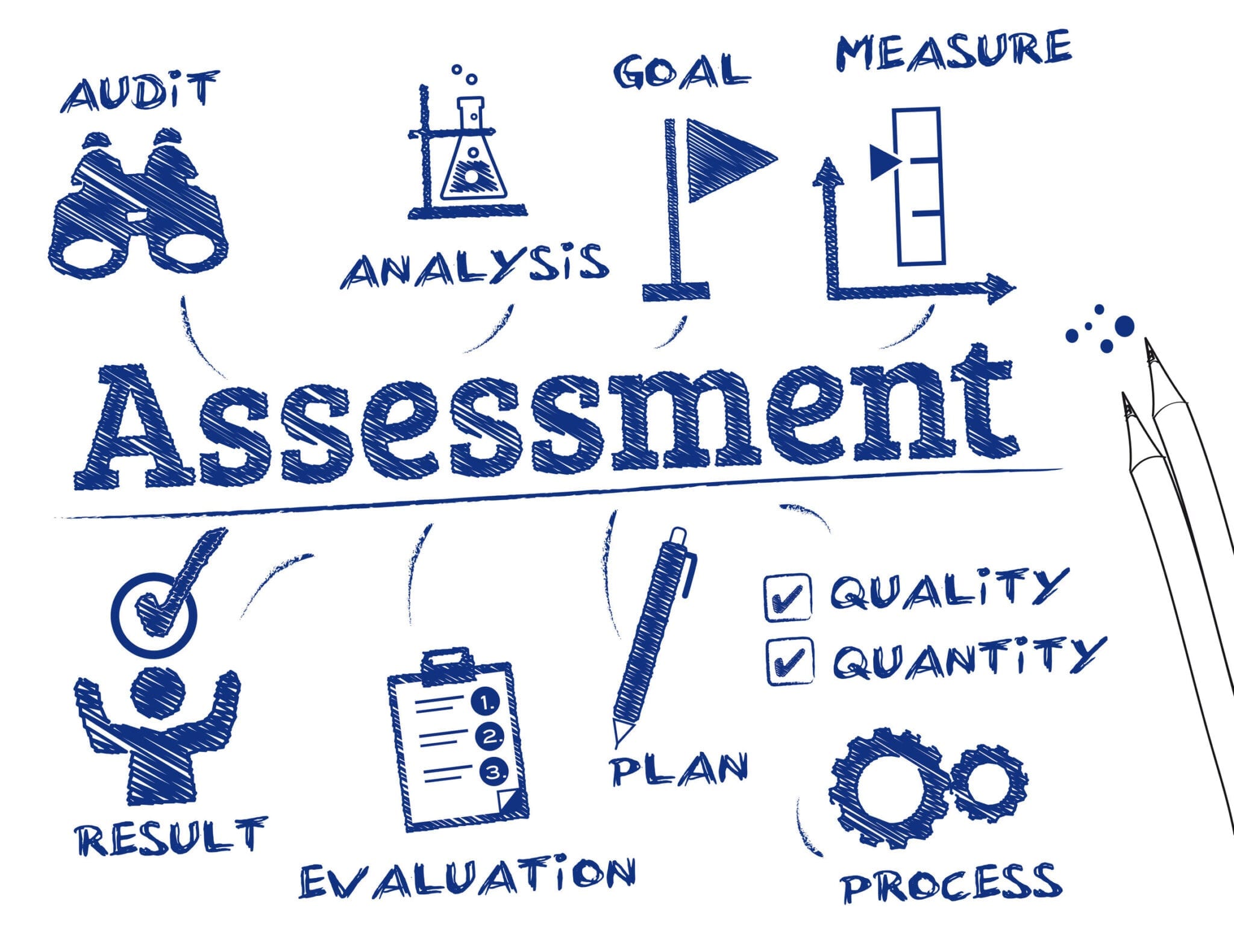 What You Should Audit
An asset assessment applies to things you can see, like ads, brochures, colors used, and words chosen. This evaluation also applies to the things you do, such as campaigns, sales processes, and networking efforts. Lastly, you'll want to audit measured results, such as conversions on your website, the sources of the sales made, and the time put into each sale.
A successful audit should be comprehensive, covering all areas of your marketing efforts and not just those where problems are already perceived. Ideally, it should be performed by a third party to eliminate bias. The audit needs to account for each principle, strategy, and operation of your organization. Lastly, because your business evolves, plan to perform audits regularly.
Marketing Assets (Things)
The types of marketing campaigns your business utilizes will determine the kind of assets you'll have to audit. Depending on your business, you might use more physical assets such as printed marketing materials, a mixture of print and online, or only online collateral, such as emails and videos.
Brand & Business Assets
Your brand identifies who you are in the marketplace. Taking stock of your brand's key elements and how they serve you, or if they are still serving you, is an essential part of an asset review. Revisiting your messaging and style guide to ensure it's clear, consistently being used, is resonating with your audience, and represents who you are will help you stand out to your target market.
Mission Statement: Does it align with where your business is today?
Persona Profiles: Are you still targeting the same people as before? If not, you'll want to write new personas. Have you learned more about them since you developed the personas? If so, flesh out your personas to reflect your new knowledge.
Logos: Are they being used consistently? If you have brand standards, are they being followed?
Colors: Are consistent colors being used in all materials? Do the colors and the logo align with the brand's current messaging?
Brand Style Guide: If you have a brand style guide, are the guidelines current and being properly implemented?
Print & Online Graphics
Your print and online graphics are key visual representations of your business. They make a lasting impression in your customers' minds, helping them learn about your business and how you can help solve their pain points. Review the following pieces of content and evaluate if each one reflects the brand and its message accurately, if the content is up-to-date, and if your team remembers to use them regularly.
Brochures
Flyers
Direct Mail Marketing
Banners
Ads
Infographics
Business Cards
Website Appearance
Social Media Graphics and Written Content
Audio Visual
Assess for accurate messaging that is in alignment with your current goals. Is the content actively used? Can you direct more people to the content? Does the content lead to conversions into a sales funnel or to purchases? Does the content reflect your brand?
You might also have audiovisual assets available for purchase. Reviewing these to see what's selling will help you learn which type of content your customers are looking for so you can focus your efforts on producing content that sells.
Videos, including YouTube and Vimeo
Webinars, including on-demand recording and live presentations
Audio Recordings including podcasts and interviews
Marketing Materials
The emails you send, the articles you write, the downloadables on your site are all ways to reach your customer, establish your brand and credibility, and encourage sales conversions. Ensuring that they are serving your business is essential for growth. Confirm these items contain accurate messaging. Who uses each piece of content, and how? Interview existing and prospective customers to find out if they find these pieces memorable and valuable.
Emails, including one-off emails, welcome emails, email funnels, emails automatically generated after online purchases
Website's Blog Posts
Guest Blog Posts
Website's Content Pages
Articles
Sales Letters
Ebooks
Case Studies
Social Proof & Analytics
Reviewing your social proof and analytics will help you assess which platforms and types of posts are most effective for your audience. Here are performance indicators to check for each piece of digital content.
Click-through Rate from ads, emails, web pages, and social media
Engagement, such as time spent on materials and bounce rates.
Page Views and Page Depth per visit
Shares
Conversions into sales funnels and purchases
Website Performance
Auditing your website performance can help you determine how user friendly it is, how it fares with search engines, the content that converts the most and least.
Reviewing your site for these performance indicators will show you which pages need improvement for search ranking and conversion rates. Learning which pages perform the best in search and generate conversions will teach you how to improve the lower-performing pages. Your team can gather most of the stats listed below through an analytics tool, such as Google Analytics.
Besides hard metrics like those listed here, consider watching people use your site. Ask them to perform specific tasks to tell you their impressions and how the content makes them feel.
What terms does your website get clicks for from search engines?
Which search phrases does your website get impressions for but no clicks?
Find out the search terms that produce conversions such as email sign-ups, inquiries, and sales.
Identify the pages that most likely lead to conversions and pages that don't engage the viewers.
Find out if your website's highest-priority pages are recording load speeds under three seconds per page.
Are there terms your site ranks for organically that you'd like to ranker higher for?
Efforts (Activities)
After auditing your physical and digital assets, it's time to assess your efforts. Here you'll want to evaluate your past, current, and planned marketing campaigns and client perception.
Marketing Campaigns
Assessing your past, current, and planned marketing campaigns helps you to review what's worked previously, what's working now, and will allow you to pivot and modify future marketing campaigns so that they'll be in line with your goals.
Take an in-depth look at the tactics you've tried that have converted. What do you know about why they convert? Can you scale up these efforts? If not, why?
What have you tried that has not converted? Is there obvious room for improvement, or should these efforts be shelved for now?
Are there tactics you'd like to try but haven't yet? List them in your assessment. Assign them to your team to get them executed. Decide in advance how you'll measure their success.
This is an excellent time to confer with the key stakeholders in your company to find out if they have opinions about past marketing campaigns and ideas they would like to see implemented.
Client Perception
Begin by reviewing your personas and your unique positioning.
Interview actual clients to learn how they perceive your company; do they understand your unique selling points?
What do they perceive as your brand's core values?
Why do they choose you over competitors?
Who do they perceive as your competitors?
Once you get this feedback, you'll have data that will tell you if your messaging is on track or if it needs to be revised.
Goals
Setting goals is necessary to give your business a compass to base its activities around. Reviewing your goals, the steps that have been taken to achieve them, the wins, and the losses is a process most businesses don't allow themselves to go through. Reflecting on the past successes and failures is an extremely efficient way to move your business forward. It can teach you if you need to adjust your goals. It can tell you when to do more of something and stop some efforts altogether. It will reveal the efforts that have stalled, show you roadblocks, and draw attention to the processes that were the most effective.
What's Next?
For each of the categories mentioned, break down what's working, what needs to be let go, what has improvement potential and why, and new ideas.
Identify which efforts are likely to have the most significant impact, get the appropriate buy-in, and work on those first. This is a never-ending process, so choosing the most important items to develop, improve, or remove is vital. Also, identify the things that are nice-to-haves but likely won't yield as many results. These items can be revisited after the first sweep through each category has been completed.
How to Get it Done Now
Because this process is ongoing, give your team a deadline to complete the audit and another deadline to implement the highest-priority changes in each category. Be sure to allow as much time as possible between implementation and the next audit so there will be time to measure results.
How to Get it Done in the Future
Because an asset assessment is easily pushed to the side yet can be the most lucrative investment of time for business generation, plan when the next audit will take place, your ideal audit frequency (such as yearly or quarterly), and assign who will do the future audit now, so they have the proper time and resources allocated to them ahead of time. These future planning steps will significantly increase the likelihood of regularly completing future asset reviews.
In our next installment, we'll discuss your marketing budget.
More Marketing Plan Articles
This article is part of a series to help you create a robust marketing plan: