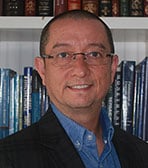 With over 30 years of experience in entrepreneurship, management, business planning, financial analysis, software engineering, operations, and decision analysis, Akira has the breadth and depth of experience needed to quickly understand entrepreneurs' businesses and craft the most suitable solutions.
Before founding Cayenne Consulting in early 2001, Akira started two Internet companies in Silicon Valley. Previously, Akira held various management positions in New York at Salomon Brothers, most recently as Vice President in Fixed Income Derivatives Trading, focusing on new business development and risk management. He has also worked as a senior financial risk management consultant to the financial services industry; software engineer; advertising sales manager for the popular Let's Go travel guide series; general manager of an advertising and graphic design agency; and engineering intern at the Stanford Linear Accelerator Center.
Akira was a regular guest speaker on the topics of business planning, financial forecasting, and capital formation at the Phoenix chapter of the Ewing Marion Kauffman Foundation's FastTrac entrepreneur training program and at various programs affiliated with Arizona State University (ASU). He mentored companies preparing to present before the Arizona Angels and the Arizona Venture Capital Conference (AVCC). Akira has also served on the Board of Directors for ITASA (Information Technology Association of Southern Arizona). He was named Entrepreneur of the Week in October 2000 by vCapital.com.
Akira earned his BA in Engineering Sciences from Harvard University.
View Akira's articles and client testimonials.
Please note that as Cayenne's CEO, Akira is no longer able to personally take on any new clients.
Contact Akira to Learn More
If you'd like an assessment of your needs and a fee estimate, please let us know how to reach you: