Guy Kawasaki's Social Media Mantra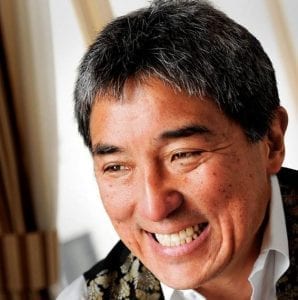 In a new article on the HubSpot Blog, marketing and tech guru Guy Kawasaki breaks down his personal approach to social media across all the most popular platforms.
Interestingly, Guy's strategy focuses on Google+, rather than Facebook or LinkedIn. (Update: Google+ was discontinued in April 2019.)
Wait a minute… Google+ instead of Facebook?
As an evangelist for new technology, Guy sees Google+ as the Macintosh of today; it has a simple interface and deep features, but it is not as widely used.
The main advantage of Google+ is its ability to become a platform for both private and public content through circles. For example, when Guy finds a great article right before bed and doesn't have the energy to craft a post about it, he shares it to a private circle that only he, or his team, can see. Since Guy's Alltop is maintained through Google+, he can act as an editor while assistants draft and publish posts.
While he has help for HolyKaw and his other social accounts, Guy writes all the posts and replies on his personal Google+ page. Everyone should do this for at least one of their accounts, as a personal comment or @-reply goes a long way towards standing out in the sea of HootSuite robotweets.
Scheduling and automation apps are still powerful tools though, and should not be ignored.
Using the Chrome extension Do Share, Guy is able to quickly and easily schedule all his Google+ content. To ensure that content reaches the largest audience possible, Guy syndicates with Buffer . From whatever articles, pictures, and videos he loads into Buffer, a link is automatically shared across Guy's Twitter, Facebook, LinkedIn, and Google+ accounts.
By creating and maintaining a reputation for sharing quality online content, and honest, constructive opinions, Guy has cultivated an impressive online following that is interested in what he is going to do next.
No one necessarily knows Guy's entire life story when they see a tweet or post by him, but because of his online presence, they have a way to find out. Not only that but if they are interested enough to follow him, his dedication to social media ensures they will stick around and eventually become customers.
Converting qualified leads into customers is the most important thing small businesses should be doing through content marketing and social media. Building content is different than building a content strategy. Content is the currency of social networks, and each platform specializes in circulating a specific kind of content: links on Twitter, pictures and video on Facebook, and articles on blogs.
A content strategy is a plan to turn that content into measurable results. Guy takes a softer NPR-like approach to conversion because he is promoting his personal brand and commanding influence through his celebrity. It is a great model for say, an established CEO or CTO, but in order to aggressively boost sales in a startup environment, you'll need some additional tactics.
If your company is just getting started with online marketing, visit the Cayenne Consulting Entrepreneur's Library. It contains hand-selected resources to help build and grow your startup's Social Networks & Social Media as well as its Marketing & Public Relations.
Each startup searches to find a new business model. With each fresh approach comes its own unique marketing mix, different from both large companies and other small businesses alike. Contemporary marketing professionals are a mixture themselves; they're expected to not only create compelling content, but they must also test their marketing hypotheses by conducting experiments and measuring the results.  The most important part is to start finding and reaching potential customers. Then, keep experimenting to find the mix between social media, blogging, emails, videos, and podcasts that has the biggest impact.