Is Marketing an Art or a Science?
Marketing professional. This term conjures images of glamour, consumption, and style, much like what the AMC series Mad Men depicts. If you've watched this show or heard talks given by leading marketers, you might also assume that successful marketing requires you to have a gut instinct, a muse, or an innate ability to tell emotive stories that shift cultures and drive sales.
Marketing is Accessible to Everyone
Yes. The most successful marketing campaigns tap into the emotions of those they reach. And yes, telling stories that tap into the zeitgeist of the moment can come from a glamourous, well-known marketing firm. However, unlike the times depicted in Mad Men, an effective marketing campaign in today's market can come from a tiny startup, too. Unlike any other time until now, the ability to reach the masses is available to all of us. So, if anyone can reach the entire world through a platform like Google or Facebook, but marketing is still a challenge to do successfully, what makes up the most successful marketers (or marketing teams) today?
Successful Marketing Blends Creativity and Data
To answer this, we turned to SalesForce.com, a leading tool used for customer relationship management. SalesForce has an interesting take on what makes up a marketer (or marketing team) today: a blend of a Scientist and an Artist.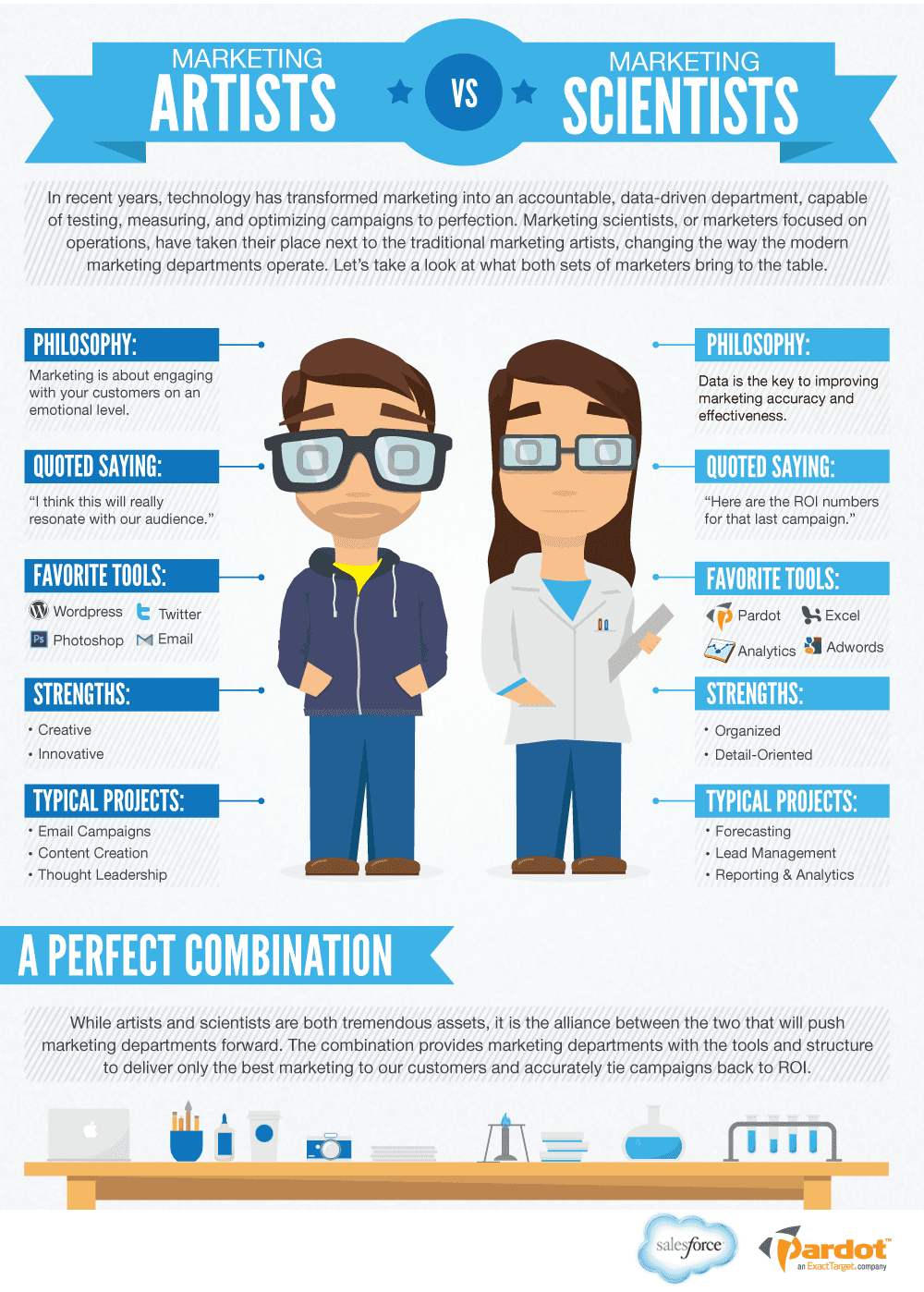 Here Are the Roles That the Artist and the Scientist Play in Marketing Today:
The Artist-Driven Marketer Creates
Written content: Your website, emails, printed material, and social media need to tell compelling stories. You will base these stories on your company's core message, vision, strategy, and implementation goals, as laid out in your business plan. These pieces should drive people down the sales funnel as they build a relationship with your brand through your marketing. You will rely on your science-driven marketer to help you measure the success of your content.
Visuals: Your prospect is being bombarded with marketing messages every second. Memorable visuals can help you stand out in an over-saturated market. Staying aware of current creative and messaging trends will help you hone your visual messaging.
Social media: This is where everyone is. As a creative, understanding unique ways people use the different platforms and working your brand's messaging into each format will be vital as you work to build audiences for each.
Email marketing: If you receive someone's email, treat it like gold. Pay great attention to what your science-driven marketer tells you about demographics and needs, and then give your email list content that they genuinely appreciate. The appropriate email to send will depend on what type of business you represent, so it might be informative, educational, or sell products. In each scenario, you want to delight your audience. To delight them, you have to think of them as humans rather than just email addresses. Consider their motivations for signing up to your list. Deliver relevant content using your brand's voice.
The Science-Driven Marketer Analyzes and Refines
Performance Tracking with Multiple Platforms: It used to be said that half of all marketing budgets are wasted; managers simply had no way of telling which half. Not now. There are data points for all online marketing that you will use to fine-tune your team's efforts continually. You'll likely work with tools like Google Analytics, which will show you sources of traffic, sources of conversions, demographics, and content that gets more and less activity. You'll use these data points to determine which creative pieces resonate and which need refining; you'll communicate your findings to the artist-driven marketer.
Lead Management: What happens when a potential lead visits your brand on social media, your website, or your app? What happens when emails are sent? What happens when someone receives a free opt-in offer? Who has eventually converted to a paying consumer? These are your questions to answer. They will allow you to improve your content and your relationship-nurturing processes.
Campaign Performance: Before a campaign begins, you'll analyze data from existing customers and similar demographics to help plan what platforms get what messages. You'll monitor the campaign on each platform once it goes live to check for costs per impression, costs per click, demographic behavior patterns, search keywords, and conversion costs. You'll either implement or recommend changes based on your findings, and then you'll monitor the campaigns to assess the metrics all over again.
How to Have a Well-Rounded Marketing Approach
Generally speaking, you will likely be drawn to doing tasks that are either artist-driven or science-driven from the list above. It's normal to find that you don't possess an equal amount of both skillsets. So what should you do if this is the case for you?
Depending on your financial resources and available time, you might consider educating yourself in the areas where you are weaker. You can do this by attending marketing conventions or through a source like LinkedIn Learning, which offers courses and learning tracks to help you increase your strategic, creative, and analytical marketing skills.
If you are already maxed on time, you might need to partner with someone to fill in the gaps. You might reach out to other people who are working in your business to find out if anyone has untapped marketing skills that complement yours. You might consider hiring talent, as well. Places like UpWork.com and TopTal.com are perfect platforms to find project-based, short-term, and long-term marketers.
Remember, marketing is usually a process. Most don't get it right the first time. Still, with the help of the artist-driven marketer, you'll be able to create new concepts based on the information that the science-driven marketer provides, eventually resulting in a successful, profit-producing marketing team.