Entrepreneur Spotlight: Russ Wilcox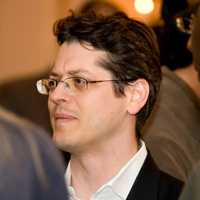 Cayenne Consulting interviewed Russ Wilcox, Co-Founder & CEO of Transatomic Power, a next-generation nuclear reactor design company. The firm has developed the Waste-Annihilating Molten Salt Reactor, a 200MW reactor that converts high-level nuclear waste into electric power.
Russ Wilcox was previously Co-founder and CEO of E Ink Corporation. Founded in 1997, E Ink commercialized electronic paper materials invented at the MIT Media Lab. E Ink conducted ground-breaking research, scaled up manufacturing in the United States, and shipped tens of millions of displays for the Amazon Kindle, SONY Reader, B&N Nook, and other devices. This transformed the publishing industry and led to the sale of the company for $450 million in 2009.
After selling E Ink, Russ and his family took a year-long around-the-world learning adventure visiting 32 countries. Their experiences are chronicled on their blog, 365 Saturdays.
Russ graduated with honors from Harvard College and was a Baker Scholar at the Harvard Business School and is a co-inventor of twenty-five issued U.S. patents. He is an Ernst & Young New England Entrepreneur of the Year and a Mass High Tech All-Star.
Cayenne Consulting: Russ, thank you for joining us. You've accomplished a lot of things in your brief career. Can you tell us a bit about your early days – in particular, how did you decide to start E Ink?
Russ Wilcox: I heard from a friend that Joe Jacobson, a Professor at the MIT Media Lab, wanted to change the future of publishing with an invention he called "electronic ink." We met in his office and hit it off. When Joe showed me the E Ink microcapsules through a microscope, I could see thousands of tiny particles moving in unison to trace out letters. It was beautiful.
CC: As a founder, what were your most valuable contributions to the company during the formative years? How did your role change over time?
RW: The first year out I did everything but the science. Wrote a business plan, set up accounting, leased office space, raised money, made the first hires, and worked on strategic alliances. After the first year we had raised over $16 million and we brought in an experienced CEO. I focused on business development and later ran a division to sell our first product which was an electronic retail sign.
CC: As with all startups, I'm sure you had some dark days, especially in the beginning. Was there a time when you thought of throwing in the towel? What kept you going?
RW: About seven years in, we had raised and spent $100 million without shipping anything in volume. It was unclear if we would survive and I wondered if I had just wasted a big chunk of my life. My HBS classmates were working on Wall Street and living the high life. I started to look at other jobs and did a lot of soul-searching. As our cash balance got low, our CEO decided to leave and I stayed to run the company. We were in such bad straits that I gave up all hope of making money as a founder. I just dedicated myself to doing whatever I could to save the technology and make it see the light of day because it was just too important to fail. The company turned the corner and began to grow rapidly.
CC: What role did luck, either good or bad, play in the ultimate outcome?
RW: Luck was vital. We had to get past a million problems before we got lucky.
CC: You sold E Ink in 2009. What made you decide it was time to exit?
RW: The company was growing from $40M in 2008 to $160M in 2009 and we were earning 30% profits. It was hard to see how the trend could get any better. At the same time, in consumer electronics, there comes a point where everyone has heard of your product and the value proposition is clear and the main way you expand is by dropping price points. We had gone from eBooks at $399 to $199 and now needed to get to $99 or less. One of the best ways to do that is to integrate the supply chain so there are fewer companies. You also need access to plenty of capital to invest in capacity and ride out any dips. So we merged with the public company in Taiwan who was downstream from us and that was a good way to drive out cost, which in turn expanded the market. By 2011 we hit $1 billion in display sales.
CC: You earned your MBA at Harvard Business School. What were the most valuable things you got out of that experience?
RW: The classes and Professors are first rate at HBS. You are studying alongside some of the best young business people in the world. Once you can do that for a while, you realize you can probably stand toe-to-toe with anyone anywhere. HBS also makes you spend the entire first year in a single classroom with 90 people called a section. You take all your classes together and nearly live together. By the end of that year, your sectionmates are embedded in your head and you can reliably predict what any of them would say about anything! Later in your career, when you are a CEO and you need to set a direction, you can imagine how each of those 90 people would react or contribute to the idea and this will make your message more polished and more thoughtful. And in a one-on-one situation, you can more easily put yourself in someone else's shoes because they remind you of someone who was in your section. And of course you can call those 90 people for help at any moment for the rest of your life and they will be there.
CC: After E Ink, you spent a year abroad. Your family had the opportunity to be immersed in many different cultures. How did this impact your world view, and do you now see entrepreneurship differently as a result?
RW: As we speak, most of the world is struggling with government corruption, overpopulation, and income inequality. Women are treated surprisingly poorly and are repressed in many countries. Clean air and water and food are a luxury. Electricity and running water are the key labor savers, which enable kids to learn instead of work, which in turn reduces family sizes and slows overpopulation. So that is the need. At the same time, there are a lot of hungry, aggressive people out there who are just as smart and talented as Americans and perfectly willing to lead lives on lower salaries. It is hard to see all that and not come away worried about America's competitiveness. Ultimately I looked for a company to start that would meaningfully improve living conditions in the developing world while also hopefully increasing American exports.
CC: You've gone from E Ink, a display technology, to nuclear energy. That's quite a transition. Why did you choose nuclear energy as your next endeavor, and how did your experience with E Ink equip you to handle this new challenge?
RW: Transatomic's nuclear reactor meets all the goals I just described. It is different field, but in many ways the challenge is just like E Ink because we are commercializing a complex systems technology from MIT so we can change the existing paradigm.
CC: Do you have any tips on maintaining a healthy work-life balance?
RW: When the company is in good order, the goals are achievable and the people are enjoyable and talented and competent and that makes work a LOT more fun. So get your company in order! Other tips: Always interrupt a meeting to take a call from family. Set boundaries to your schedule and don't hesitate to draw the line… my day can go as late as needed during the week, but I reserve weekends for personal and family time. Take your vacations every year. Join a CEO Forum that meets quarterly at an offsite location where you can get away, reflect, learn new ideas, and swap advice. Set up a calendar that schedules all repeating company meetings for the entire year in advance so that you have less confusion. And lastly, if you keep waking up at night worried about whether your company will deliver, then it is a good bet that what you need is a big helping of process control.
CC: Any parting words of wisdom for aspiring entrepreneurs who want to follow in your footsteps?
RW: Dare greatly in the service of a bold dream. Make sure you are bringing the world something it really needs. As setbacks occur, force yourself to see reality, no matter how painful. Then do something every day to close the gap between reality and your vision. You will eventually get there.
CC: Russ, thank you very much for your time. We look forward to seeing you hit more home runs.
RW: Thanks!