Entrepreneur Spotlight: Chalk Fitness
Cayenne Consulting interviewed David Pollitt and Brian Nick, co-founders of Chalk Fitness. Chalk Fitness is a new cross-training concept focusing on personal attention, community, efficiency, results, and value. Their first location opened on January 1, 2012. In many ways, this flagship location is a laboratory for perfecting an operating model so that the concept can be replicated for national expansion. Cayenne's Akira Hirai became a member several months ago. Impressed with Chalk's operations and its plans for the future, he sat down with the founders for an in-depth interview to discuss some of the lessons learned so far.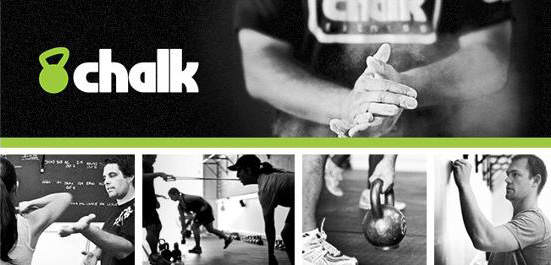 Cayenne Consulting: How would you describe your respective backgrounds, and how have those led you to create Chalk Fitness?
David Pollitt: Well, I have been a strength and conditioning coach for over 22 years. I've started gyms before and built relationships with a wide range of clients for a long time. It's my passion and it's a craft I've developed over my entire career. I'm very much substance over style, but I think as my personal brand of training has evolved you can see more and more of me in it. When you pour yourself into something, you shouldn't be surprised if a bit of you bleeds into the final product. Chalk is just the culmination of that product.
Brian Nick: My background is notably different from Dave's. At university, I was classically educated using the Socratic Method. It was an incredibly difficult program, but very rewarding. To this day I enjoy wrestling with ideas and using questions to pursue truth.
"Leading a team to accomplish a mission is fundamental to what we do, and there are no acceptable excuses for a failed mission. These are skills that transfer well to being an entrepreneur."
I cut my management teeth working for a startup nonprofit, learning how to get things done without much in the way of guidance or resources. That was a great proving ground for an entrepreneur. I spent the last five years in restaurant management for Chili's and then Starbucks.
I've been able to work on both sides of the coin: the bootstrapping-startup and the Fortune 500 Company. One of the most rewarding things about working at Starbucks was the opportunity to work with and serve people from so many different backgrounds – people I otherwise would never have come into contact with.
I also have over ten years of military service both in the Navy and now the Army National Guard. Leading a team to accomplish a mission is fundamental to what we do, and there are no acceptable excuses for a failed mission. These are skills that transfer well to being an entrepreneur. At my core, that's who I am, an entrepreneur, but I am also someone who has spent a lot of time in gyms, and who values fitness.
Cayenne: What led to your decision to open a gym together?
David: I wanted to be able to offer a valuable service at an affordable rate to anyone who was interested. Personal training, one-on-one or otherwise, isn't cheap–but I knew that somehow it can be affordable.
I ran my own gym for years, and my clients loved it. I have people who have been with me for years and years. However, I just couldn't crack that nut of how to keep prices reasonable while also making a reasonable living.
Eventually, I decided I needed to go back to the drawing board and start over on my business model. That's how I came to sit down with Brian asking for advice on how I might rethink the business side of my gym. Brian's expertise in these matters, the nuts-and-bolts of business, and the inner-workings of managing personnel, are a huge part of why Chalk Fitness is what it is today. My career may have been the starting point for the business, but Brian's vision for the company is really how we've gotten as far as we have.
Brian: That's kind of a long story, but the key thing is that Dave's success as a trainer is the primary reason we exist, let alone have been successful. He has a tremendous amount of experience and talent as a personal trainer, and he works hard running 40+ classes a week, making sure that our Chalk family is getting the most out of the premium service that we offer. He's just a deep reservoir of the sort of knowledge and experience that only comes from many years of work and study.
I found Dave when I was looking for a personal trainer to help me get in better shape for the Army. I talked to a lot of personal trainers but they were never quite right. When I met Dave I knew he was the right guy within 60 seconds. Dave's like that. He's at the top of his game as a professional trainer, but you also feel like he's actually listening to you. It's rare to find a trainer as accomplished as Dave without an ego the size of Texas. He'd never tell you what a great trainer he is, but he'll work his butt off to prove it to you. If you're going to have a business partner you want to make sure that it's a person of good character, someone whom you can trust with your entire future.
As far as working together, the seeds were planted early on. I remember showing up every day and changing into my workout clothes and then going next door to buy a Gatorade and a water and protein shake for the workout. I told Dave, "Hey, I just gave the guy next door eight bucks for this stuff but I'd rather give my money to you. So why don't you sell it?"
The more we talked, the more we realized we had very different but surprisingly complementary skill sets. I saw that Dave was an amazing trainer with more experience than anyone in Orange County, and he was offering a fantastic service at a very reasonable price, but there was no way to scale it up.
So we had a couple of years where he'd be coaching me through a workout and when I caught my breath between sets I'd be coaching him on how I thought he could be more profitable. There was just enough familiarity, enough of a comfort level with each other's areas of expertise, to consider a partnership.
A big piece of why I wanted to work with Dave was that I saw how fiercely loyal his personal training clients actually were. We're talking about people who would work out with him anytime and anywhere, gym or no gym, because he had fostered a trusting relationship with them and because they saw results.
Chalk's major focus on community has stemmed from that type of interconnectedness and personal touch that Dave provided people. He's created this culture where everyone knows your name, trainers and athletes alike. It's hyper-local. Fostering that kind of community is the best way to develop accountability and attentiveness to all aspects of personal health. Let's be honest, for most people, our biggest problems and struggles aren't measured in pounds and inches. Creating a community where those other aspects and other needs could be met and addressed was a huge priority for both of us. Chalk is about healthful living, not just weight loss or physical fitness or increased energy, or stress relief. It's all of those things, not just one of them.
CC: So why a gym? Why the fitness industry?
Brian: There are some industries, healthcare for example, where demand will always exist. Some sectors of our economy are just impervious to a downturn. But one thing that a lot of people may not fully understand is that, strictly speaking, 'demand' can be a relative term. The demand for something obscure and extravagant may be robust and healthy and thriving, but any number of things can cause that demand to dry up. But people will always get sick, and people will always want to improve their fitness and get into better shape. No matter how obese America gets, statistically speaking, no matter how unhealthy we may get as a culture, the demand for an alternative, the demand for health and fitness isn't going anywhere. Unhealthy people will want to improve their health, and healthy people will want to maintain it – the percentage breakdown is irrelevant to the market. A country full of hard-core fitness buffs or people looking to shed pounds and inches, or the average Joes in between… all of them represent demand. That window of opportunity is always there.
Right now, as America becomes the most obese nation in the world, people are clamoring for fitness solutions. However, those solutions are murky as the fitness industry is heavily fragmented. There's a chaotic free-for-all as different fitness solutions are offered. It remains to be seen when the dust settles in a decade or so which brand will "own" the industry. That is, who will be the voice that people trust? Is going to be the big gyms, smaller gyms, the home fitness products like the Thigh Master, or information products like P90x? Or will it be more medically-based, like the lap band and liposuction?
We think we have some special things happening at Chalk such that in ten years we could be the brand that owns the fitness industry the way iconic brands like Wal-Mart owns retail, Apple owns consumer electronics, and Starbucks owns specialty drinks. That's where we're headed.
David: I think fitness is really coming into its own these days as well. We're at a point where, as a country, we are starting to recognize not only the 'demand' per se, but the need. People all over this country are motivated to change, to make a difference in and for their lives. Americans are starting to take their fitness seriously.
CC: How did you make that transition from an idea, to a business plan, to a brick-and-mortar building, and finally, to flesh-and-blood customers?
David: In the early going, the idea revolved around a new place to bring this service, and an opportunity to continue working with the group of very committed clients I already had (most of whom became our 'Founding Fifteen'). Many of our clients predate Chalk Fitness, which helped a lot in starting up. They have been both the means and the end for which Chalk exists.
Brian: There came a point when Dave wanted to give his personal training business a makeover. Since I had been so vocal with my suggestions in the past, he invited me for coffee so we could explore a bit deeper. I love talking business and I love sharing my opinions, so I thought it was a lot of fun. We did it again a few weeks later, and it was obvious we were reading from the same script. Dave asked me to partner with him. I jumped aboard instantly because I knew we had something special as a team that neither of us had on our own.
From that point, it took me another 10 months to exit Starbucks. During those months we spent a couple of nights every week talking in a local park. I'd guess we spent well over 100 hours just talking. We really didn't do any work, it was just impractical dreaming. But that was important at that stage.
When Dave sold his beloved 1963 Chevy Nova convertible, I knew he was serious (less than 1,000 were ever made). I put in my two weeks' notice a few days later.
That's when the real work began, and within six weeks we had our permits from the city, signed a lease, hosted a gym sneak-preview event, filed as an LLC, opened a bank account, and were swinging hammers doing the gym build-out. It all came together lightning fast. Some of that was because we were motivated, but I think it's also true that we just bumbled around and got lucky. Really, there were a few key people who helped us get started, and without them, there wouldn't be a Chalk Fitness.
Cayenne: And it's working?
Brian: Well, we've seen double-digit membership growth every month since we opened, and our client retention is astronomically high. There is no gym with a client retention rate even close to ours, and we accomplish it without locking people into contracts or subtly encouraging members to pay but not show up. We want to see you several times a week in order to help you toward your fitness goals.
At a mega-gym, the business model actually necessitates that a majority of members pay but not show up. They couldn't handle every member working out even twice a week – they're not equipped for it. But mega-gym members don't cancel their membership because that feels like quitting on yourself: "I'm fat and I'm not going to use this membership so I should come to terms with the fact that I am always going to be fat and save the money I'm wasting on my membership fee." That cycle of despair and hope is what mega-gyms prey on.
We don't want that – at Chalk, if you're there, you're seeing results, and if you're not, you're actually missed. We'll call you and say "Hey, buddy. We haven't seen you this week. Is everything OK?"
There have even been a few members to whom we've said "You've got a lot going on right now. Maybe you should cancel your membership and start up again when you can commit to making this work." No guilt, no judgment. And with no contracts or startup fees, it's super easy to do.
But this is a totally foreign concept to almost any other gym. For Chalk, it's the only way to do business. We don't want you to pay for a service you don't use. We could make a quick buck but that's no way to build a loyal, fanatical member-base.
David: It's definitely working. I've seen a lot of my long-time clients take their fitness to the next level. And now I get to coach more people in a single day than I had total clients at my old gym. We get someone new walking in the door almost every day.
Cayenne: One mantra you consistently repeat is this: Equipment does not equal Fitness. What does this mean?
"Sure it's true that we utilize some equipment at Chalk, but if a piece of equipment isn't truly necessary to accomplish our most basic fitness needs, we don't want it."
David: It means that physical fitness doesn't necessarily require expensive or elaborate apparatus. Equipment plays a small role in fitness – the majority of it lies with the individual. Mass and Force are all it takes to complete a workout, and the human body can encompass both of those things. Throw in gravity and you have all the weight and resistance you need. Sure it's true that we utilize some equipment at Chalk, but if a piece of equipment isn't truly necessary to accomplish our most basic fitness needs, we don't want it. You'd be surprised how much you can accomplish with a few kettlebells, a pull-up bar, and a rubber band. Hard work and commitment trump any need for fancy equipment or a huge gym.
Brian: The whole fitness equipment market is out of control. It's just silly, and we'd laugh if it wasn't also sinister. With a few notable exceptions, the people who make this stuff don't care about the long-term health and well-being of their customers. They just want to cash the checks and sell the next product.
The "Equipment Does Not Equal Fitness" mantra started when I asked Dave to make me a list of all the equipment we would need to open the gym. We went out for breakfast and he gave me the official list. It was like $60k of equipment, which is very normal for a small, startup gym. Typically, the kind of person who starts a gym is like a kid in a candy store when it comes to equipment. They've just got to have all the cool toys.
One of my principles for starting this business was that I didn't want debt of any kind, and I knew that we would need to keep startup costs low. So I passed that piece of paper back across the table to Dave and said: "cross off all the equipment that isn't essential." He was shocked, but he was a good sport. He cut it in half and was pretty impressed with what he'd done. I looked it over and slid the paper back across the table repeating "cross off all the equipment that isn't essential." He said it wasn't possible, that we had to have all this equipment. I explained to him that every dollar spent on equipment (essential or not) meant that our members would have higher fees, and that money would not be available for opening the next gym, which would restrict our growth over the next five or ten years. He understood right away, and got that number very, very low. That was an important day and led to us developing our "Core Equipment" doctrine, a handful of simple yet powerful rules for making decisions about equipment.
Cayenne: Is Chalk Fitness a chain?
Brian: We get asked that all the time, and we tell people "why, yes, this is the first of many." The reason we get asked is almost exclusively because of our logo. Early on we spent some extra money on getting a professional-looking logo, and when people look at it they think we're a big company. Dave gave me some well-deserved pushback about wasting money on the logo, which he thought of as artsy-stuff when we were so cash strapped, but I stood my ground on this one. I knew it was a key part of our brand, and it would tell the world a story about who we are. Plus, one of my best friends is a consultant for an east coast consulting firm. He has an MBA and did his undergrad degree in art. I never would have heard the end of it we didn't brand ourselves with a decent logo.
Logo aside, the key to opening more gyms is cloning Dave without losing fidelity to that Chalk experience. We're trying to figure out how to replicate Dave as we train new coaches to deliver the Chalk experience. Everything hinges on our ability to recruit good coaches and train them properly.
David: In one sense that's where we're headed, but we never want to become a "chain gym." We want to have multiple locations, but we want each location to have a "small and local" feel. The experience needs to be more like a five-table pub where everyone knows your name than these monstrous gyms where everyone is a lonely stranger.
Cayenne: So what's the future of Chalk?
Brian: We want there to be a Chalk Fitness in every neighborhood in America. One near your home and one near your work so it's always convenient to exercise. Also, we want to work to drive our membership price down, not up. Lowering that price barrier is going to be distinctive for us. With most gyms, it's not a question of "if" they should raise their prices but rather "how soon can we raise it?" A lot of customers get priced-out of good gyms and good coaching because they can't afford that $150-$300 monthly fee, plus an $80-$150 startup fee. It's just crazy, and so they end up alone at the only gym they can afford, which is really just a demotivational waste of space with lots of mirrors and useless machines. We're on a mission to bring the Chalk experience to everyone. We think of this as a moral imperative: fitness is not just for those with disposable income.
So we want to retain the small and local feel but draw on the business efficiencies that only a large company can support. Price-wise we want to be competitive with the big mega-gyms, but we want the experience to be similar to what you get from a personal trainer or boot camp.
David: Expect to see a new Chalk (or two) opening in Orange County in 2013.
Cayenne: This is exactly how great brands get started. I'm looking forward to staying in touch as you grow the company!