Four Threats to Startup Survival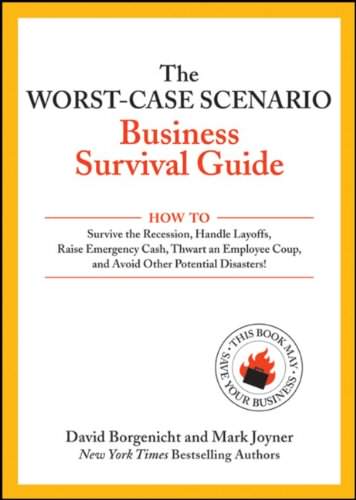 The best survival guides tell you how to be proactive and avoid the probabilities of ending up in a worst case scenario. Of course you need to learn how to recognize a bad situation before it bites you, and you need to know all the secret ways to wiggle your way out, before you succumb.
The challenges stem from the simple fact that every entrepreneur is starting something new, where things are predictably unpredictable. There are unknowns at every turn, leading product development, attracting customers, managing cash, and dealing with human resources and office politics.
Several whole books have been written on this subject, such as "The Worst-Case Scenario Business Survival Guide" by David Borgenicht and Mark Joyner, so you should consider this article a simple introduction. Here is their and my perspective on the most common problems that will threaten your survival:
People are the problem and the solution.Probably 80% of the startups I know have found human resource issues to be the most treacherous. Trusted partners quit, personal friends become enemies, and staff management becomes a huge burden. Some say that if we could only run a company without people, the entrepreneur's job would be easy.The proactive solution is to hire sparingly, and spend the time and effort needed to hire existing experts in all cases. Don't hire your friends and family, don't assume they can learn on the job, and don't assume that cheap is best. The best will save your sanity, avoid most potholes, and pull you out of disasters you never anticipated.
Missed or no target expectations.Setting the wrong or no expectations is another of the most consistent problems I see with every startups. Missed milestones de-motivate the team, unrealistic financial projections will put you in crisis with investors, and you find you need to double every product development timeframe when talking to sales and marketing.Add an advisory board or experienced mentor to reality-check your financial projections, timeframes, and milestones before you publish them. But not defining or publishing expectations is not the solution; that leads to quick disasters as everyone sets different ones, based on their own experience, or lack of it. "Stretch" goals in early-stage are not advised.
Too slow or too fast to change.Ironically, startups that are all about change often are slow to see the need, or slow to implement. Yes, it's your vision, and it's good to be relentless, but don't be blind and stubborn. The other side of this coin can be equally disastrous; the change of direction based on every customer or investor comment.Maintain your focus, but assume that changes in your plan will be required. Make it clear that you intend to update your business plan and financial projections every three months, and communicate changes proudly to your team, rather than apologetically. Build a learning organization that shares your vision and drive.
Strategically timid and haphazard marketing.To get competitive leadership, you can't be an industry follower. Too many startups simply follow the standard distribution channels, use standard pricing, and count on their one extra feature to give them the market. Marketing is done in fits and starts.Instead, you need to undertake an aggressive campaign in the new media, with creative selling messages and promotions. Don't wait until you are in crisis mode to think about doing something new. Look for ways to offer additional value, rather than slash prices.
Overall, there are no silver bullets, and the entrepreneurs who recover from the most worst case scenarios are the ones with the most drive, determination, and positive mindset. Experience helps, so every worst case you survive makes you stronger for the next one. If you really believe that failure is not an option, you can make success happen, despite the odds.