Align Your Teams to Create One Mission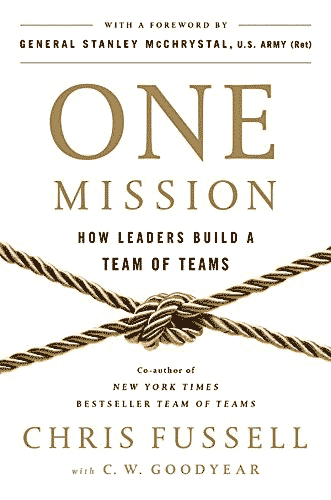 Chris Fussell knows the value of a cohesive team—he spent 15 years on U.S. Navy SEAL teams, leading SEAL elements around the world.
From his work in Kosovo to his counter-terrorism in the Middle East and North Africa, he's handled all types of threats in volatile environments and experienced the information silos and technological adaptation struggles that arrive with emerging technology.
He worked closely with Lieutenant General Stanley McChrystal to combat Al Qaeda in Iraq. The two built a network that could manage and adapt to threats as they happened—much like the group they were working to bring down.
The pair was successful and worked together again—this time in the private sector as part of the McChrystal Group, an advisory service. The colleagues both contributed to Team of Teams: New Rules of Engagement in a Complex World, published in 2015.
Recently, Fussell enlisted the help of Yale graduate C.W. Goodyear and the two released a new book, One Mission: How Leaders Build a Team of Teams, with McChrystal writing the foreword. The group suggests organizations combine agility, adaptability, and cohesion—three traits used when fighting Al Queda—among departments to build one mission in an organization.
Some of One Mission's key takeaways are below.
What are silos? One Mission explains organizational silos weren't always negative and are a product of specialized teams. The problem arises when teams of specialized employees have important information, but that information isn't shared across the teams—and when it is, the "why" and the "how" often don't get explained across teams or departments. If the problems in an organization are interconnected, then the organization must also be connected to overcome them.
How companies can overcome silos and build trust: Teams must be what One Mission describes as "flat"—meaning weaving a level of trust and intimacy across departments. One Mission suggests using a forum that allows leadership and junior staff to interact on a regularly scheduled basis. This should also be applied between different departments.
Difficulties companies encounter when eliminating silos: When departments have been operating in secrecy and the curtain is raised to the rest of the organization, it can be disruptive. Departments may struggle with assigning blame, often unfairly, after becoming more transparent. The problems and procedures that weren't previously visible to the rest of the organization are now in the spotlight—and egos and turf wars can temporarily get in the way of growth. However adverse the short-term effects may be, it is necessary silos be eliminated for departments to operate more openly and for the good of the organization in the long run.
One Mission highlights software company Intuit, Inc. as being particularly successful at overcoming silos and becoming a flatter organization. The company had plenty of talented individuals on its five teams, but the traditional collaboration approaches it was using were lacking. Intuit began struggling as competitors took advantage of evolving technology, resources, and methods. The company enlisted McChrystal Group's help and eliminated its silos by developing an approach that increased collaboration among groups such as sharing data and creating tools for smart phones.
Take a hard look at how you're running your organization. Do you have talented employees ,but messages are still getting lost between teams? It's time to use the One Mission approach in your company and tear down silos to create room for cohesion.