When Good Isn't Good Enough
Sometimes doing your best isn't quite enough.
Such a realization can be sobering.
In his latest work, author and leading business consultant Subir Chowdhury explores why outwardly similar companies grow at such different rates. Why do some companies improve and grow slowly, while others experience dramatic, exponential growth?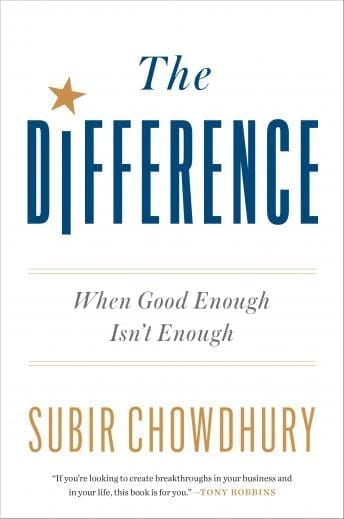 The Difference: When Good Isn't Good Enough explores this topic, which has haunted Chowdhury throughout his career.
Chowdhury argues that there is a crucial underlying difference distinguishing stellar companies from less successful counterparts: successful organizations are better at maximizing the innate talents of their employees by honing and nurturing their skills, engendering a sense of loyalty, and fueling passion.
Looking at the STARs
Chowdhury argues that successful organizations focus on the STARs:
Straightforwardness
Thoughtfulness
Accountability
Resolve
People and organizations that embrace all four characteristics are more likely to shine.
Leaders must be upfront and candidly authentic with their teams. This straightforward approach, when complemented by a high degree of thoughtful behavior, allows organizations to focus on continuous improvement and quality.
He encourages organizations to adopt a "quality mission" that begins at the top but permeates the organization. It starts with a thoughtful business plan, a sound mission, and compelling customer value proposition. It continues throughout the hiring process and the way in which challenges are addressed every day. It is not, however, a top-down approach but rather one that is infused at all levels.
Accountability balances the empowerment of people with the importance of process. Process power, as he puts it, focuses on solving problems, creating sound ideas, and then honing ideas and solutions to create the best possible approach … always.
Inspiring Talent
Chowdhury believes firmly in the value of nurturing talent. It is in that support of talent and holding them accountable that organizations thrive. It is those people who deliver the quality that he values. This is true for large corporations and start-ups alike:
"If you work for a small business, the chief talent is possibly the founder because that's what talent often does – they go off and start their own companies," Chowdhury writes on his website. "But there are other 'high potential' employees who work in your business right now, today. They are the indispensable people who, through their dedication and astuteness, do their jobs extremely well."
The commitment to individuals is palpable in Chowdhury's work. It is that resolve (the last letter in the STAR acronym) that he emphasizes throughout. Compromise is not always the best solution. What is important is the need for discipline and determination on the part of each employee.
While he concedes that compromise is at times not only necessary but appropriate, he encourages employers to focus on their resolve instead. Taking shortcuts or the easy way out is unlikely to lead to quality and continuous process improvement that leads to… the difference.