Protecting Your Online Reputation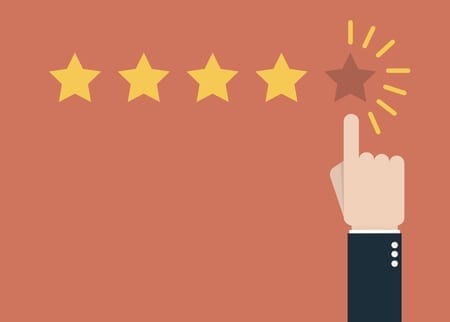 Your company's reputation depends on a positive online presence. You probably have already taken proactive steps to enhance your company's online image — registering your company's domain name, blogging and creating other content, using social media, listing your company in professional directories, and setting a Google alert for your business's name. But what should you do when negative online reviews put you and your company in a reactive position?
First, follow the maxim that the best defense is a good offense. Get ahead of a reputation management problem by asking satisfied customers to post online reviews about their experiences. A BrightLocal consumer survey found that seven of ten consumers will write a review if asked.
Second, remember that people often voice their opinions on the web when they feel unheard elsewhere. Create mechanisms that allow customers and employees to express their opinions directly and train your team to listen and respond appropriately to customer feedback. Customers should never feel their opinions are falling on deaf ears.
Third, consider your audience. Respond differently depending on who has written the negative review. Writers usually belong to one of three groups: customers, former employees, or competitors.
Customers
Half of the adults under 50 check online reviews regularly when making purchasing decisions, so you want those reviews to reflect well on your business. The same BrightLocal consumer survey found that 84 percent of people trust online reviews as much as personal recommendations. Ask for feedback when working with customers or immediately after — then take it to heart. Thank the customer graciously, listen closely, and take notes. Find a way to remedy any negative experiences, perhaps by offering complementary or add-on services. Then follow up with customers to see whether they're satisfied with your response. Negative feedback need not translate into a negative outcome. Learn from it, fix what's broken, and keep the lines of communication open.
Try not to stress if you get a few bad reviews — they build trust, lead to more informed customer decisions, and help you engage with customers. But offsetting bad reviews requires you to proactively garner positive ones.
Reviews for e-commerce sites are particularly useful for search engine optimization. More reviews on your site mean fresh content, increased click-through rates, and more highly ranked "product + review" search results pages.
Former Employees
Former employees often just want to vent, and the best way to manage their venting is to keep it internal. Exit surveys accomplish this goal and encourage two-way conversations, which may circumvent any later impulses to air opinions online. The stakes are not insignificant. A recent Glassdoor survey revealed that job seekers who read negative reviews of a prospective employer asked for salary increases of 55 to 60 percent from their current salaries. Those who read neutral reviews requested a 45 to 50 percent pay increase, and those who read positive reviews asked for only a 35 to 40 percent pay increase.
Unethical Competitors
A few unethical competitors may write phony reviews to sabotage your business. Recognizing a phony review is not always possible, but some fakes are obvious.
If a dissatisfied intern reviews your company, for example, but your company doesn't hire interns, you immediately will smell a rat. If you encounter a situation like this, respond respectfully on the review site, thank the writer for his or her time, but identify the apparent confusion, explaining that your company doesn't hire interns.
And don't simply defend against this kind of unethical end-around. Pick up the ball your competitor has fumbled and turn it into an offensive win. For example, explain that as an equal opportunity employer, you have helped many employees grow and meet professional goals. Discuss your plans for a future internship program. Offer to discuss the writer's comments further over the phone or through email. Then, alert the medium on which the fake review was posted. Whoever posted it likely violated the review site's terms of service. Keep records of contact with the review site and screenshots of the review and how you responded to it.
How to Spot a Fake Review
Here are a few ways to spot fake reviews:
The review contains incorrect information.
The review avoids details about an actual experience.
The review links to another site.
The review writer's profile is thin.
The reviewer fails to respond to your post; gives a generic, canned answer; or gives irrelevant answers to your questions.
The writer has posted similarly worded reviews of other companies.
Building positive online reviews and counteracting negative ones will protect your business's reputation. Prevent negative reviews if possible, respond quickly to those that do surface, and demonstrate how in the future you'll learn from them.