Meetings Don't Have to Suck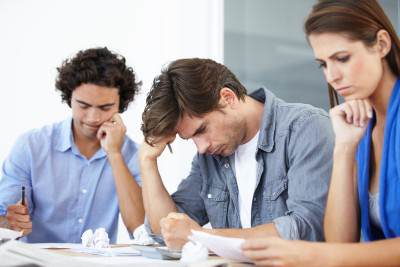 Love them or hate them, meetings are a cornerstone of the business world. Every day, we hold staff meetings, pitch meetings, and project meetings, all in the hopes of hammering out the solutions and deals we need to keep growing our business.
But whether we're sitting in a conference room around a fancy polished table or dialing in from our home office, we've all attended meetings that felt like a huge waste of time (WSJ paywall). There's nothing like watching the hours slip away irretrievably as your fellow meeting participants struggle to find the right spreadsheet to share, drone on about information that has nothing to do with your objective, or rehash exhausting debates that never get resolved. In the meantime, you've got a ton of legitimate work that is begging for attention.
Tips for More Productive Meetings
Meetings will never go away. But with a few simple tricks, you can make your meetings more productive while freeing up valuable time for all involved:
Draft internal meeting policies and school your staff on them. Request that the meeting moderator speak for only 25% of the meeting and that all participants contribute, with no one person dominating or withdrawing entirely. All input should be succinct and relevant, with the moderator cutting off tangents and meandering conversations. Most importantly, every meeting must result in an outcome.
Make sure the right people – and ONLY the right people – are invited to attend. Too many meeting owners invite every person peripherally attached to a project when many of them aren't necessary for brainstorming a marketing plan or developing a launch timeline.
Always have a written agenda and be realistic about what you can accomplish in one meeting. If you've scheduled a one-hour meeting, don't list every issue you can possibly think of. Most of them won't get addressed, which creates a feeling of futility. List only your top agenda items and try to resolve the minor stuff one-on-one.
For all-day or multi-day meetings, assign a fact-checker who tracks down answers in real-time to the questions that arise during the discussion. Being able to resolve those questions during the meeting eliminates follow-up action items and advances the conversation while everyone is present.
Schedule Q&A or "sidebar" time at the end of all meetings. This ensures the discussion stays on track while allowing people to express any related thoughts that arose during the meeting.
Follow up even minor meetings with a summary and list of action items including the names of the accountable individuals and due dates. Then follow up on the action items.
Schedule downtime between meetings, so you have a few minutes to check your voicemail and recharge. It's hard to stay attentive and engaged when back-to-back meetings blur into each other without a break.
Ask that your staff follow virtual meeting etiquette. Meeting remotely can make scheduling easier and eliminate travel expenses, but communicating clearly requires certain skills. Ask that all participants introduce themselves at the start of each meeting and that each speaker identify themselves when speaking.
Also make sure your staff understands how to use web conferencing technology. Given the video and online meeting tools available today, there's no reason to fumble through conference calls where everyone has to page through reports on their own. When evaluating video conferencing tools like RingCentral and Zoom, consider their screen sharing capabilities and other features that promote seamless remote collaboration. And too many meetings waste time trying to resolve technical issues.
Finally, consider scheduling a "no meeting" day each week. It's rarely productive to dive into projects in the 30-minute increments between meetings; usually, the wheels are just starting to crank in your head when it's time to shut your laptop and move on. But designating an entire day as meeting-free can allow everyone to immerse themselves in work for blissfully uninterrupted hours. Conversely, if you have telecommuters, consider designating an "office meeting day" when everyone comes in for face-to-face time.
Ultimately, the key to both productive meetings and productive work time is respect. By respecting the time and input of your partners, staff, clients, and customers, you will conduct efficient meetings that deliver high-value outcomes – while freeing up more time for other pursuits.