If You Could Pick Any Place for Your Business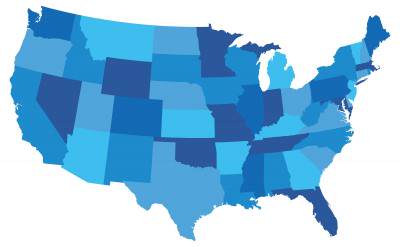 We recently completed a feasibility study for a client who wished to immigrate to the United States to establish an import and distribution business. Part of our assignment was to help him decide on the best state to locate the business. We decided that the business should be established near a port and that there should be easy access to an interstate freeway. But what were the other determining factors that went into our recommendation? We decided that we needed to figure out which states were the most business-friendly and that would take us where our client needed to go.
This past summer, CNBC ranked all 50 states according to how open they are to business. To do this they used 51 metrics of competitiveness developed with input from groups such as the National Association of Manufacturers and the Council on Competitiveness. They then grouped the 51 metrics into 10 broad categories:
Cost of doing business
Workforce
Quality of life
Infrastructure & Transportation
Economy
Education
Technology & Innovation
Business friendliness
Access to capital
Cost of living
According to CNBC, here are the 10 most and 10 least business-friendly states: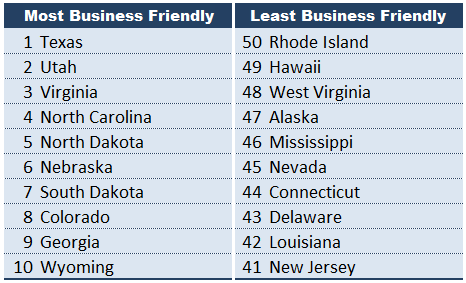 That analysis was very informative but we thought that it would be useful to have a look at one or two other sources to see how they compare. We stopped by The Tax Foundation, a non-partisan tax research group formed in 1937 to see what they had to say. We realized that they would rank states primarily on the basis of business tax burden, and yet the rankings turned out to be very similar to CNBC's. They concluded that "a state that raises sufficient revenue without one of the major taxes will, all things being equal, have an advantage over those states that levy every tax in the state tax collector's arsenal."
In December 2012, Forbes ran a story titled Utah Tops Forbes 2012 List of the Best States for Business. Their ranking is based on six vital factors for businesses: costs, labor supply, regulatory environment, current economic climate, growth prospects, and quality of life. It should be obvious from the title that Utah won. The other states that made the top 10 included 2) Virginia, 3) North Dakota, 4) North Carolina, 5) Colorado, 6) Nebraska, 7) Texas, 8) Georgia, 9) Oklahoma, and 10) Iowa.
What did we conclude from all of this? Well, of the three samples that we took, only Utah and Texas scored among the 10 most business friendly states in all three. Wyoming, Nebraska, and Virginia appeared in two of the three top-10 lists so they were worthy of consideration. North Carolina also was among the top 10 in two of the polls, but was among the least business friendly in The Tax Foundation survey. So, we decided to disqualify North Carolina.
Our client will be importing low-cost commodity products from Asia and will then be selling these products to wholesale distributors in major markets. We needed to be near a port and we needed interstate freeway access to major markets. We decided that the port requirement disqualified Utah, Wyoming, and Nebraska. The State of Virginia (Norfolk) is home to one of the best deep water ports on the East Coast. Ultimately, however, we decided that Houston was the best place for our client to locate because of the business climate, the Port of Houston, and the ability to get to all major markets within 15 hours.
You may have different criteria to consider when you decide where to locate or move your business. Nevertheless, it is good to know what the professionals are thinking when they do their rankings.