How Successful Entrepreneurs Are Wired For Results
In her new book, Wired for Results, author Lucy Hoger explains seven pillars of a highly successful business based on her years of experience as a CEO, senior executive, and board member at companies including PriceWaterhouseCoopers and Gemini Consulting.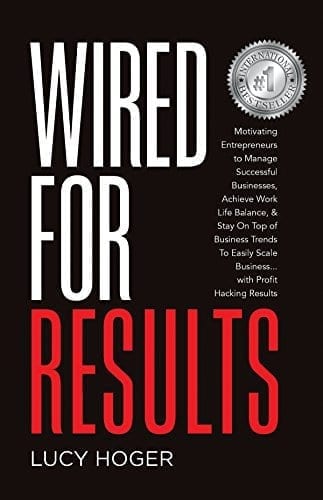 Hoger believes in the predictability of business success. She analyzes why many businesses fail, especially early on. The reason is that many entrepreneurs do not "prepare to succeed."
The author urges entrepreneurs to build a foundation upon an awareness of what is necessary to succeed. This includes knowledge of core competencies such as marketing, sales, finance, customer service, R&D, and positioning. She also advocates for a new way of thinking about "the wiring" that leads to desired results.
Her "wiring" involves seven sequential steps that allow entrepreneurs to respond quickly to increasingly fluid shifts in markets while maintaining operational excellence:
The Promise. Hoger believes that many companies craft beautifully-worded vision and mission statements that are subsequently ignored. She advocates for the promise a company makes to two essential audiences: its employees and its customers. The promise is the "why" of your business. "It's the reason you are in business and the reason you will make a difference," writes Hoger. Keeping that promise is paramount to success, even at the expense of other considerations.
The Culture. A workplace culture will evolve as a company grows. Hoger believes that senior leaders need to invest the time to "create the energy within the business that moves it forward to achieve its goals and targets." With a diverse, multigenerational workforce, new technologies, and more contract and mobile employees, establishing and honing a corporate culture is critical. Friction due to a dysfunctional work climate can derail goals, teams, and outcomes.
The People. The best CEOs understand that all business is about people. It is essential to form teams that are nimble, cross-trained, and able to withstand the loss of a key employee. CEOs must emphasize creating fail-safes in the case of departures or illness. The book calls for leaders to make managing, motivating, rewarding, and collaborating with staff the "foremost aspect" of their work.
The Engagement. Hoger calls client engagement "the new capital" in business. Not only is client retention far more economical than client acquisition, so is the need to continually exceed expectations and delight clients. There is a ripple effect from honest and authentic relationships with clients. Building these connections helps to attract new business via client advocates. Employees need to clearly understand their company's customers, challenges, and opportunities.
The Rules of the Game. CEOs need to focus on scalability, repeatability, competitiveness, and profitability at every stage of company growth. They need to understand where to focus energy and resources to maintain and sustain growth. Starting out, that might mean a focus on increasing sales and customers. A more mature company may focus more on brand identity and expansion. Understanding the rules of the game, both about your company and your clients, allows you to better target opportunities that are appropriate for where you are on the "maturity model spectrum."
The Solution. Business relies on the execution of well-conceived strategies, plans, and decisions. Is it top-down or distributed? Hoger argues for a distributed model to alleviate bottlenecks. Senior management must be committed to educating and empowering people throughout the organization to make good, timely decisions. That said, Hoger also believes that leaders should "trust but verify" by developing clear metrics that can be analyzed by senior managers.
The Yardstick. The final keys are the financial and operational dashboards that give management a snapshot of where the company stands. Both should offer an in-depth perspective. Cash flows, the sales pipeline, and customer satisfaction metrics need to be available in real-time for leaders to be effective.
These fundamentals add up to a nimble, well-connected, well-informed leader who can navigate the inevitable uncertainty, identify and capitalize on opportunities, and correct course when necessary.