Five Agile Innovation Tips for Startups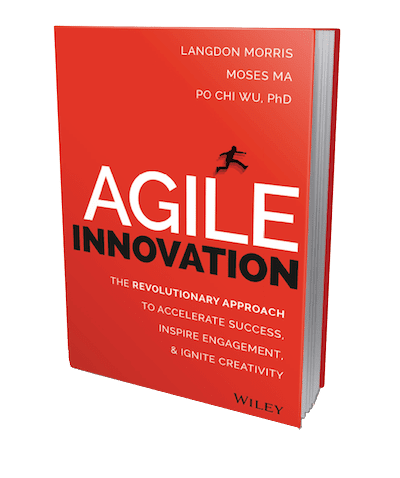 As an adviser to countless startups, I'm very interested in learning all I can to help foster innovation in rapidly shifting markets. And so, I read everything I can get my hands on – about innovation, strategy, execution, what have you. There's a new book just out, called Agile Innovation… and I think it's a game changer. Simply put, it's one of the best innovation books I've read in years and I think its approach can elevate the art and science of innovation at any organization.
The authors – Langdon Morris, Moses Ma, and Dr. Po Chi Wu – pertinently address a lot of the deeper issues pertaining to innovation. They've managed to deliver to the business community a body of work that's visionary and actionable at the same time, so it's valuable for the entire team, all the way from the CEO looking for an innovation master plan to scrum team participants seeking to realize the potential and promise of the Agile process. It's a valuable resource that is filled with pertinent case studies and practical advice for everyone.
I chatted with one of the co-authors, Moses Ma, and asked if the book, which is aimed more at executives in large companies, would be applicable to startups and small business owners. He quickly assured me that it would be applicable and shared a list of the "Top Five Agile Innovation tips for Startups and Small Businesses":
Work Small but Think Big. The Chinese world for being careful is "shao hsin" – which literally translates to "small heart." To concentrate down. To work small. So when I hear the word "small business" – I don't think about the size of the revenues or the number of employees, I think of a venture that should carefully focus on what really matters – what I've called the "Swing Thoughts for Entrepreneurs". But at the same time, they shouldn't give up the possibility of making it big… perhaps using leverage multipliers like franchising or distribution partnerships. Always remember Audrey Hepburn's quote – "Nothing is impossible, the word itself says 'I'm possible'!"
Creativity is like a Muscle. Creativity is like any other human skill, like learning to speak another language or to play the piano. And because of the structure of the human brain, it requires about 5,000 hours for the brain to master that skill. Highly creative people generally have put thousands of hours into exercising that mental muscle, and it's something all small business owners should make time to do as well. This is what can make innovation sustainable and successes repeatable for any venture, no matter how small or underfunded. In the Agile Innovation book, the authors recommend doing "innospectives" at regular intervals, so the team can reflect on how to innovate better over time.
The Secret of Great Success. It's not plastics… it's ethnography, the systematic study of unarticulated, tacit human needs. This is the key to reaching deep simplicity for your products and services. And this means you need to learn how to ask the right questions and begin to become aware of blind spots. My favorite quote from the book is "The secret of Agile Innovation is the art of seeing things that are broken even when others think they're fine. This is the ability to see major opportunities that are hidden in plain sight."
You Can't Manage What You Don't Measure. Measuring things and experimenting are costly and expensive to do, especially for small businesses. Nevertheless, it's vital to do. With limited resources, you need to measure the right metric that can guide you to success.
Don't Be Afraid To Speed Up. The book explains that, like snowboarding and motorcycles, it's actually safer if you go just a little faster than your comfort zone. This is even truer for small businesses, which need to be nimble and agile to survive. Especially if you don't want to get stepped on by one of the dinosaurs everyone is saying will go extinct, but keep getting bigger every year. You can do this in little ways, like by having fewer and shorter meetings and using Agile techniques for tracking progress with greater transparency.
And finally, a bonus tip… learn how to master storytelling. All great ideas start out as emotionally compelling stories, and this is probably the greatest mistake of small businesses – the inability to explain why they deserve to survive.