We recently came across a website called Visual-Signature (edit: the site is no longer live). The founder, Zainab Gibrine, is an image consultant and corporate executive based in Dubai. The site is focused on how job seekers and others can use their personal image to "advance their professional and personal ambitions." We thought there were some interesting lessons to be learned for our readers who are primarily entrepreneurs. Ms. Gibrine suggests that "appearance, nonverbal communication, and body language all play a role in your interactions with others."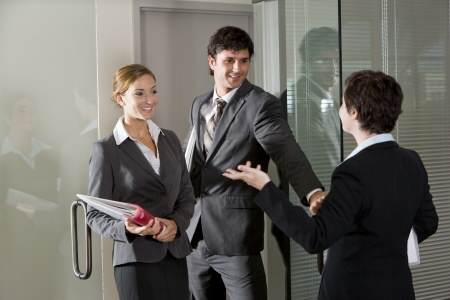 Our frequent readers realize that we are not suggesting that you can achieve all of your goals simply by upgrading your image. However, the one really important message here is that image is a very big piece of the puzzle in creating that all important first impression when:
Meeting a potential investor or banker
Attempting to convert a prospect to a customer
Recruiting a co-founder or key employee
Networking
"The first time someone meets you, it takes them about three seconds to determine whether they like you or want to do business with you in the future," says Jean Baur, a career coach and author of the book The Essential Job Interview Handbook. "This is crucial when it comes to meetings where that first impression makes all the difference, such as a job interview. From your posture to the jewelry you wear, key details can have a significant impact on how you're perceived."
Successful entrepreneurs know all about creating a great first impression. If you want a good example, consider Sophia Amoruso, the founder of Nasty Gal and the author of Girl Boss. According to Nasty Gal's website, Nasty Gal is "a global destination for fashion-forward, free-thinking girls." We understand that Nasty Gal has reached the impressive milestone of $100 million in annual sales. To paraphrase Ms. Amoruso's advice, "dress well, don't chew gum, put your phone away, straighten up, smart up, be curious and seem interested." If it works for her, it ought to work for the rest of us.
Whether you are working on your image or concentrating on making a great first impression, there are four rules that you can never forget:
Be on time!
Be yourself!
Be positive!
Follow through!
Priti Ranjee writes in Chron.com, "Running late, poor physical grooming, slouching, and a weak handshake all create negative first impressions in business. These may linger long after the initial encounter, making it difficult to form associations and relationships needed for your small business's success. Making a good first impression involves every corner of your business, from employee ethics at the front desk to your interaction with contacts. This impression can increase your bottom line."
Of course, first impressions apply to objects as well as to people. This is one of the reasons why Cayenne Consulting strives to produce clean, professional, attractive business plans. If an investor has time to review only one business plan out of a stack of several, chances are she will select the one that looks the most attractive. In business planning and in life, first impressions are half the battle.