Every Startup Needs the Right Social Media Presence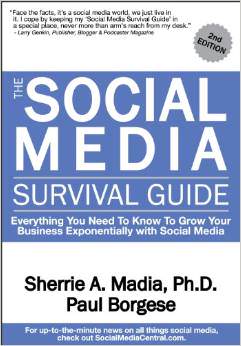 If your startup can't be bothered with social media or has no plan to take advantage of it, then you are at risk. But simply jumping in is not enough. Before spending money and time being a user, you must understand how it can help you and your business. Using it randomly or incorrectly is a waste of your precious time.
Sherrie Madia and Paul Borgese have addressed the positives of this challenge in their book, "The Social Media Survival Guide," on "everything you need to know to grow your business exponentially with social media." They also identify the five critical social media mistakes that I often see:
Diving in without a strategic plan. Don't start podcasting, blogging, tweeting, "friending" on Facebook, and posting YouTube videos until you know your message, who will manage them, who your audience is, and how they and you will benefit from the content and relationship.
Not having a social media policy. Your social media policy needs to outline how team members behave in the online universe during and outside of work. It should include education on style preferences and confidentiality. All employee messaging should be aligned with your company's values and brand.
Failing to tailor the plan to your target audience. Focus on the sites, tools, and applications your target audience uses. Is your audience out walking in the park without technology, or are they technology lovers who never part with their iPhones? You can research your target market to find out who they are and how to reach them.
Producing weak, unfocused, or unhelpful content. The same messaging rules that apply to classic public relations and branding apply to social media. Create strong, intelligent, well-thought-out content. Don't waste their time with self-serving self-promotion. Give them something they can use – tips, incentives, new ideas, fun, and inspiration.
Allowing your social media efforts to stagnate. Gone are the days when companies could put up a website that came across like an electronic business card. Social media is about maintaining a dynamic conversation between you and your customers. Done right, it's not a one-off campaign by a handful of staff; it's a long-term commitment.
To avoid these mistakes and create compelling and relevant content, you need to focus your startup on the following initiatives:
Develop a social media plan that targets a specific audience and your business objectives.
Combine social media seamlessly within your traditional marketing plan.
Use social media to engage customers in new ways and sharpen your brand.
Find the right people to staff your campaign and curate its content and evolution.
Manage your "e-reputation" and avoid the most common mistakes of social media novices.
Measure the effectiveness of your efforts and expenditures – as well as those of competitors.
Turn your social media efforts into profit rather than just another expense.
According to the "Small Business Marketing Forecast 2012" from Ad-ology, Social media for small business marketing has reached its tipping point. Just ten percent said they would not use social media in 2012, down from 24 percent in 2011 and 39 percent in 2010. Lead generation continues to be the most significant benefit of social networking for U.S. small businesses. Other benefits cited in the survey were keeping up with the industry, monitoring online conversations, and finding vendors/suppliers.
Many companies believe that getting involved in social media is easy. They mistakenly assume that anyone who uses Facebook, YouTube, and Twitter for personal networking can do it for business. But personal versus business use requires two dramatically different skill sets. I recommend you "test the waters" before you jump, but sitting on the sidelines won't get you there. Use the many resources available, like the Internet and this book, but now is the time to start.