10 Ways to Do Less and Accomplish More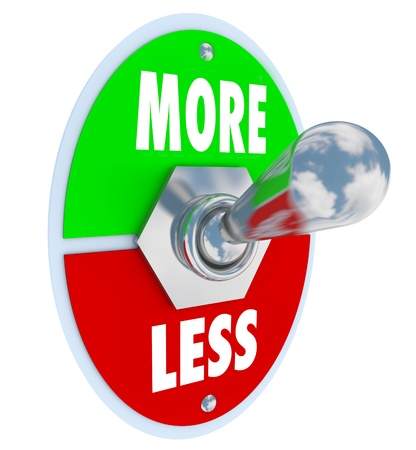 One of the most common complaints I hear from entrepreneurs is that they are overwhelmed by the workload and stress of starting their company. Then there are the additional challenges of balancing the demands of family and friends. Having too much on your plate can turn your dream into a nightmare.
Some people will tell you to just get a bigger plate, meaning hire some help. But with the pressures of the economy, and limited access to outside funding, we all know this isn't always possible or appropriate. I recommend the opposite, or getting things off your plate that shouldn't be there in the first place.
In reality, many entrepreneurs are their own worst enemy, trying to do everything, working inefficiently, and imagining things that need doing which will never happen. Here are some tips on how to look at work, make some hard decisions, and keep your health and sanity:
Maintain a big picture perspective. It's easy to be overwhelmed by day-to-day details, to the degree that they all seem like big items, driving up your imagined workload. Take a few minutes each day to reflect on your real goals, and eliminate items which don't relate.
Set realistic deadlines. The more your workload grows, the greater is your temptation to set unrealistic deadlines for yourself. This results in poor quality work, which generates more work to fix previous efforts. Allow some buffer on every item.
Prioritize the work items. Relentlessly reprioritize your list and complete them in order, resisting the urge to skip over the tough ones. The longer that high-priority items stay on your list, the more stress you will feel, and consequences will add new items.
Keep a written to-do list. Most people can't manage more than five items in their head, and when your list gets longer, it seems infinite. Write it down, but even then, keep it to the top ten priority items or less. Multiple pages of work items won't get done anyway.
Block out time for priority work items. Don't allow your day to be monopolized by distractions and the crisis of the moment. Close your door, or move to another location where you will not be interrupted so that you will complete the top item on your list today.
Count the completions. At the end of each day, check off, count, and celebrate your positives. A sense of progress is important here. Look positively at your progress as a glass half full, rather than half empty.
Take a break to recharge. Even a few minutes each hour to relax will re-energize you. Regular non-work breaks, like a trip to the gym near you, or time with family will be ultimately more productive than slugging it out all night on a given problem. Get a good night's sleep.
Discuss the tough ones with a mentor. Don't be afraid to discuss your challenges with a trusted friend, or business advisor. This will clarify the issue in your own mind, and let you see it from other angles. You need to stop and regroup when you hit a brick wall.
Stay in control of your emotions. Stress is a normal part of life. Don't let it lead to anger and frustration, or loss of productivity. We can choose how we handle tough situations, and the best approach is always to stay calm and in control.
Eliminate phantom work items. These are items that you never intend to do, and probably don't need, but you carry them on your list because of guilt or direction from someone else. You can't complete an item that you don't understand.
Wearing all the hats required to initiate a startup is tough in the best of situations. Then your business really starts to take off, and it gets even more challenging. As an entrepreneur, you need to seriously apply the discipline of these principles early and always to survive, and hopefully even enjoy the journey.