Funding Scams are Everywhere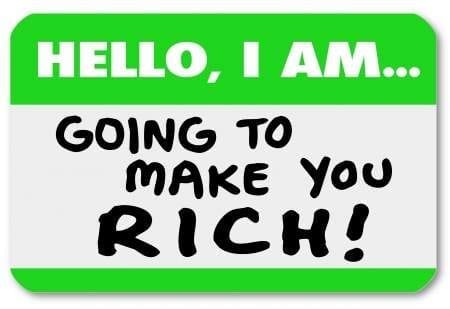 Some aspiring entrepreneurs are so desperate for funding, or naïve, that they ignore the obvious signs of scams and rip-offs on the Internet, praying for a windfall. One would think that with all the sad stories and tools published over the past twenty years, this problem would be behind us. But people are still begging for more technology or laws, often to protect them from themselves.
As examples, I present my list of ten of the most common ways to be victimized on the Internet by ignorance or greed, based on questions and stories I get from entrepreneurs and associates. The threats are organized from high to low avoidance ease, with common-sense suggestions for each case:
Cash transfer assistance. I continue to be amazed that some government agency reportedly still gets 100 calls per day from victims of the Nigerian unclaimed cash scam alone. People who fall for this one must be really greedy. The best answer is the age-old wisdom that if it sounds too good to be true, it's not true. Delete the message.
Won the lottery. How can you win a lottery you never entered, usually in another country? A simple inquiry or response to one of these emails will get you permanently tagged as a prime scam candidate, meaning a flood of new deals. Delete these quickly.
Starving girl needs a friend. I always wonder how these destitute kids have computers with Internet access, and can buy the huge mailing lists they need for spamming. I recommend that you ignore these bogus requests, and spend your sympathy in local areas where you can touch and feel the problem. Also, to protect yourself from such email fraud, consider setting up DMARC record.
Cheap travel. You receive an email with the offer to get amazingly low fares to some exotic destination, but you must book it today or the offer expires. It may even be free if you sign up for a timeshare pitch at the destination. The pitch will be hell, and you can only see the beach from your hotel through binoculars. Don't expect a refund.
Chain emails. This is the classic pyramid scheme where you get an email with a list of names, you are asked to send a dollar to the person at the top of the list, add your own name, and forward the updated list to a number of other people. This is just plain illegal, and you risk being charged with fraud if you participate. Don't ever forward these.
Special deal on little blue pills. If you get offers for a super discount on any drug or medication over the Internet, think twice. I can't predict what you will get, but your money will be gone, and the lift you get from the medication will be disappointing, if not downright dangerous. You'll get a better deal at your local discount drug store.
Greeting card from a friend. This virus distribution technique has virtually killed the digital card industry. You receive an email from a "friend" with a digital card attached for download. Real cards don't need attachments. They should be webpage URLs, not downloads, and definitely not ".exe" files. Delete the email and the attachment.
Work at home for big money. Beware of any offer that asks you to spend money before you can make money, to buy a starter kit, education, or tools. For more details, see a whole article I wrote earlier on this subject. Ignore these.
Phishing for private info. An example is an email from "your bank" with a scary message that info was lost or compromised, and asking you to re-enter your personal info. If the URL provided starts with "http:" instead of "https:", don't enter anything or click on any links. Call the institution to report the attempted fraud, and delete the request.
Viruses and spyware. Every computer these days needs a current reputable security product from Symantec, McAfee, or Trend Micro. There are even free versions from AVG and Avira. If you are spammed to download any other solution, it's most likely the problem rather than the answer. Do your research, get a copy, and install it now.
Beyond the cases mentioned here, if the message is suspicious, I recommend you visit snopes.com, a website detailing thousands of known scams and hoaxes. With this website, and about 75 others like it, I find it hard to believe that user naïveté is the problem.
If people could get past their greed, hubris, sense of entitlement, and use common sense on the Internet, fthese problems would fade away due to lack of return. I'd rather see your entrepreneur resources focused on real opportunities to improve the world we live in.