Execution Requires Planning and Systems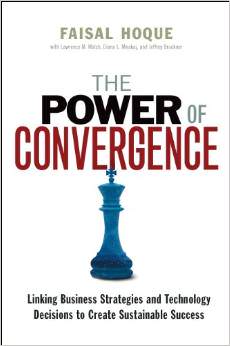 Many startups begin with a great idea but soon falter because of inability to execute. Ideas have to be implemented well to get the desired results. Good implementation requires a plan, and a good plan and good operational decisions come from good people. That's why investors invest in entrepreneurs, rather than ideas.
People and operational excellence have to converge in every business, large or small. Microsoft found this out last year when their market capitalization, once at $560 billion in the year 2000, had fallen to $219 billion, allowing them to be passed by Apple at $222 billion, who grew from $15.6 billion during the same period. Both had access to the same technology, people, and markets.
So what could have happened here? I found a good summary of the relevant keys to business operational excellence in a new book by Faisal Hoque, called "The Power of Convergence." His focus is on repeatable practices to maximize business opportunities in large companies, but I'm convinced that these apply equally well to startups:
Clearly define your value chain. Your value chain consists of customers, partners, vendors, internal systems, and your own team. Make sure you understand this chain, as well as market dynamics, to drive operational innovations and every decision. Apple has been able to innovate at an amazing pace to define and meet new market opportunities.
Visualize abnormal or suboptimal performance. Recognizing and understanding deviations enables a startup or any business to take corrective action quickly. This requires executives and a team that understands the parameters and is focused on customers, quality, and continuous improvement.
Facilitate the power of your team. Startups need to empower their people to take action in the absence of orders. That doesn't mean abdication in setting corporate policies, which provide parameters to ensure that individuals have to ability to act collectively in the company's best interest. Steve Jobs has a committed team.
Communicate effectively with the team and customers. Communication is a challenge in any organization, but it's a particular challenge when you're working in a startup, where customers, products, processes, and the team are new. Most founders forget that communication becomes exponentially more difficult as the business grows.
Measure value flow and performance. Measuring performance may seem self-evident, but many entrepreneurs mistake this task as a point-in-time or a one-time event. In operationally excellent startups, performance measurement is an ongoing effort throughout the process chain, not just at the outcome.
Define response mechanisms. Anticipating and planning for worst-case scenarios, and having a Plan-B, will enable the quick-response and pivots required to put a startup back on track. Metrics are required for ensuring the return to a known good baseline.
Maximize technology architecture and standards. Continuous innovation to maintain your competitive advantage does not mean that you can ignore current architectures and standards. These must always be leveraged produce optimal intended product outcomes.
What every business needs is a convergence of business and technology elements to optimize return and competitive positioning. All too often, entrepreneurs posit a new technology or idea, without understanding that a successful business is a never-ending process of adapting and improving all the elements in a business – especially business model, processes, and people, as well as technology.
Apple, with Steve Jobs, has demonstrated a rare convergence of technology, market understanding, business process, and people. Are you focused on all the right execution principles in your startup to do the same?