Crowdfunding Under the JOBS Act – Is It For You?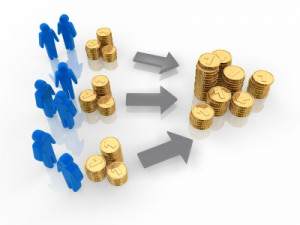 Most of the hype around the recently enacted JOBS Act (Jumpstart Our Business Startups Act) has focused on crowdfunding. But what is crowdfunding? Is it worth all the hype? Can it help you raise the funding you need to start or grow your business?
The word "crowdfunding" is confusing because it has been applied to two very different types of fund raising. Until now, the term crowdfunding has applied to sites like Kickstarter, which allow companies to raise money through donations or by pre-selling the goods or services they eventually intend to offer. Contributors are not receiving "a piece of the action" in this case.
Crowdfunding under the JOBS Act means raising equity capital from a large number of individuals over the Internet. These investors are buying shares in your company, just like an angel investor or a VC. In a real sense, crowdfunding is now an IPO for startups.
Like any other type of IPO, the JOBS Act places rules and restrictions around crowdfunding, put in place to offer some safeguards against fraudulent investment schemes. These restrictions are considerably less arduous than those for a traditional IPO, but they are real and need to be taken seriously.
Is crowdfunding the answer to your startup's prayers?  To answer that, you need to understand what crowdfunding is, and isn't, under the JOBS Act.
If you need to raise more than $1 million during the current, or any future, 12-month period, crowdfunding isn't for you. This restriction applies to all sources of funding, not just funds raised through crowdfunding.
There are strict limits on how much any individual can invest in crowdfunding opportunities. These limits apply to all of their crowdfunding investments, not just yours, and are graduated based on an individual's net worth or annual income. Annual limits start at $2,000 and go up to $100,000 for the highest-net-worth individuals. That means you will need to attract a large number of individual investors to reach your fundraising goal.
You must utilize a web portal registered with, and regulated by, the SEC to take advantage of crowdfunding.  These portals will check for fraud, make sure investors understand the risks inherent in crowdfunding investments, enforce the company and individual investor limits discussed above, and generally make sure that you are, and remain in, compliance with all privacy requirements and SEC regulations. They are strictly prohibited from promoting your company in any way.
It is anticipated that many of these portals will charge up-front fees for listing you opportunity, although there is talk of some being organized on a not-for-profit basis. They are prohibited from charging any fees based on the success of your offering.
If you are using a crowdfunding portal, you may not separately promote your offering beyond directing interested parties to that portal.  And you may not hire anyone else to do this on your behalf, except if they are in compliance with SEC rules which haven't been written yet.
You must provide all potential investors, and the SEC, with a written business plan, specific information on you and your organization, the financial history of your business, and your funding goal and funding target date.
Crowdfunding investors must hold on to their shares for at least one year.
You won't receive any funds until you have commitments equal to your funding goal. Potential investors can back out of their commitment to you anytime before then, and you must release them from their commitments if you don't reach your goal by your target date.
You will be required to provide your investors and the SEC with annual financial statements after the successful closure of your crowdfunding offering.
If you don't follow the rules, you may be personally responsible for any losses to investors or others. And you are subject to state civil and criminal penalties if fraud can be proven.
All of the above will require significant rule making by the SEC. The law gives them to the end of 2012 to complete this, but most observers doubt they will meet that deadline.
As you can see, crowdfunding may not prove to be a panacea for all startups and existing companies in search of expansion capital. But if you have a product that you believe can draw a lot of interest from a large number of potential investors, it is worth exploring.