9 Online Tools for Improving Your Content Marketing
Content marketing has fast become a priority for startups and small businesses, who rarely have the budgets to rely on expensive advertising campaigns.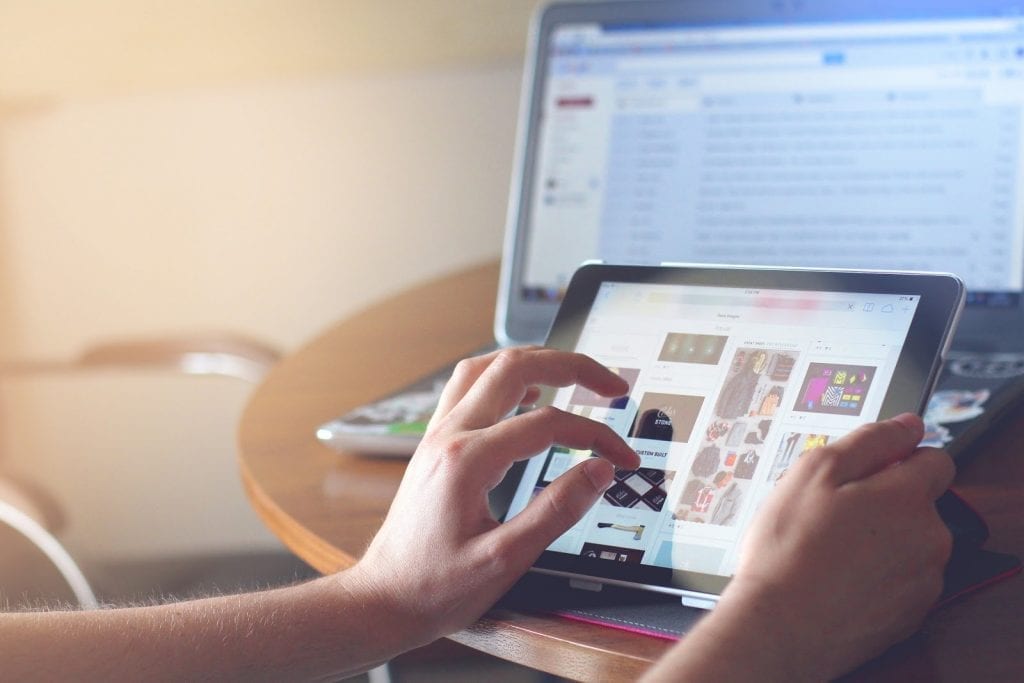 But while your marketing plan may be elaborate, creating the kind of content you need to achieve your goals is becoming increasingly more difficult.
There is plenty of competition around and that can make life difficult for marketers.
Fortunately, these eight tools should ease the burden on marketers, designers, and CEOs, so your marketing team can create top-quality content without working too hard.
1. App Institute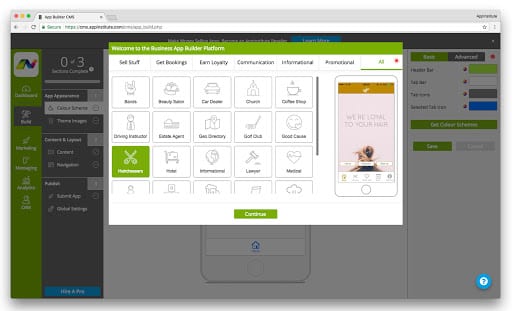 For startups and small businesses, trying to capitalize on the popularity of mobile marketing can be a massive challenge.
As most marketers know, apps can't be just mobile versions of your website—they need to have their own unique functionality and add value to users' lives.
Thus far, creating an app required the assistance of external agencies and knowledge of coding.
But online tools have come a long way, making it much easier for small businesses to build high-quality apps without breaking the budget.
App Institute is an app creator that helps you build an app in a few quick steps. You can create the app yourself using App Institute's tools, or have them build the app for you.
Pricing for the app builder starts at $42 a month up to $340 a month—which isn't too bad considering the content marketing opportunities a new app will afford your company.
2. Chanty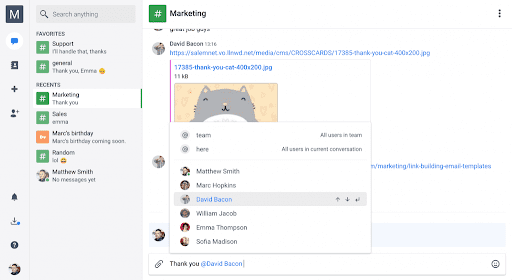 Not so long ago, email was the primary mode of correspondence within the corporate sphere. But that has been changing steadily in the past few years.
Emails are now being used as a mode of formal communication within the corporate environment—to get things done, however, companies are relying on chats and messengers.
One can see why—the instant messaging phenomenon, far from dying out with AOL, has moved into the corporate realm, making it easier for teams to communicate efficiently.
And this is particularly necessary in the working environments that we now find ourselves in—remote teams are becoming far more popular.
To ensure communication between team members, departments, and managers remains steady and productive, a team chat tool such as Chanty is ideal.
Chanty is available as an app on desktop and mobile, so you can communicate with your team from wherever you are.
What makes Chanty stand out from the growing crowd of team chat tools is its simple interface—you don't need to spend time onboarding users for it.
For smaller startups, Chanty has another plus—a free plan that allows up to 10 members in a team. Even the business plan isn't that hard on the budget—$3 per user every month.
When your content team is spread out around the globe, a user-friendly tool like Chanty is just what you need to get your content marketing on track.
3. Hotjar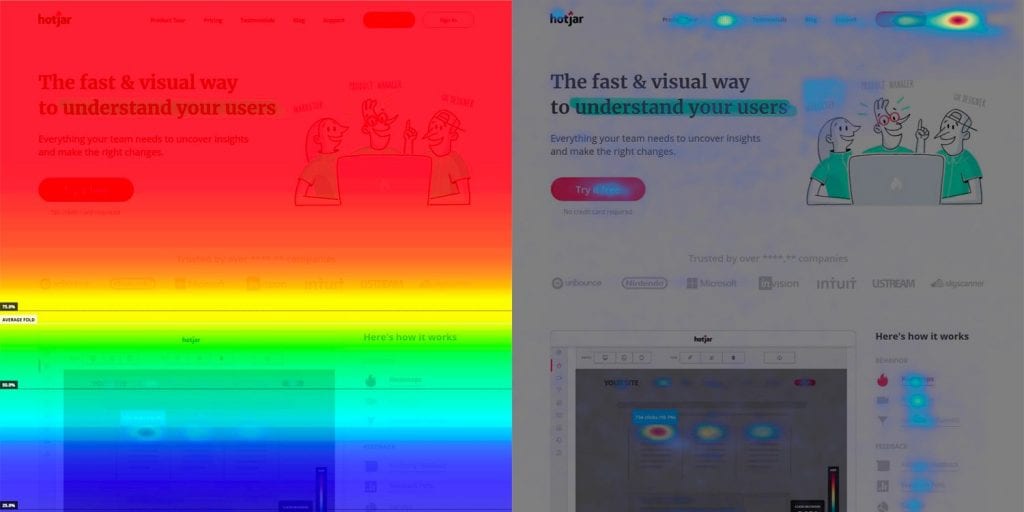 One of the primary goals of content marketing is driving traffic to the company website, as well as select landing pages, to boost conversions and sales.
And while Google Analytics can give you the information you need about who is coming to your site, from where, and for how long, what you also need to know is 'why' they are at your site.
What makes people stay on one page longer than another? Which sections of your page are they most attracted to?
Getting this information is crucial to the way you create and place your content. And how do you find this out? By using heatmaps.
Hotjar's heatmaps are graphic representations of how users interact with your website—they show you which areas gain the most attention, and which the least.
You can also track user behavior through recordings of site visitors—these tell you exactly how users navigate your pages and site, as well as what they click on.
All of which can be used to gain insights into your audience and to improve your content.
Hotjar is available with a free package as well as personalized paid packages for the amount of views you are looking to collect.
4. Podcastle
Another way to successfully market your brand and reach new audiences is by diversifying your content and what better way to do it than podcasts?
If you have already tapped into the world of audio content, using this platform will make things even easier and if not, this is a good place to start (and stay)!
Creating your branded podcast will engage your audience and drive more traffic to your website as well as becoming a medium through which you can utilize the content marketing tools and tips listed below.
Podcastle offers a plethora of AI-powered features to help you create effortlessly and with minimum technical skills or equipment needed. You can also record video, interview episodes and edit all into a publication-ready show without switching to another tab.
Repurposing your audio content into descriptions, blog articles and social media posts is a great example of working smart, not hard. Podcastle's speech-to-text tool will allow you to get transcripts of your audio in seconds. You can do the opposite as well by cloning your voice or using Podcastle's human-like voice skins to generate audio from text.
Podcastle offers a free package and several paid plans that come with a range of advanced tools.
5. HubSpot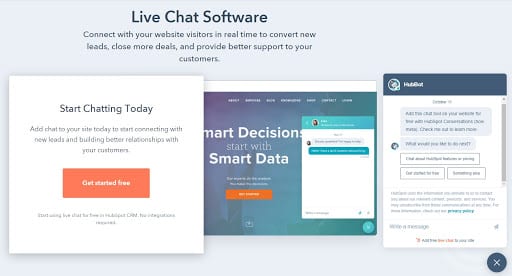 If your website doesn't yet have an integrated chatbot, you may be missing an important ingredient of your content marketing recipe.
Chatbots and live chat were a bit of a disaster a while ago—the often-unhelpful automated responses to the user's questions became a joke, leading many to believe that chatbots were dead.
But chatbots have evolved in the last couple of years—mainly because of the improvements in AI and machine learning.
Current chatbots are smarter and more adaptable, which helps save on customer service teams while ensuring that customers are kept engaged.
For startups and small businesses, HubSpot's live chat software is well worth the investment. HubSpot is a leading marketing tool, which guarantees excellent quality.
Plus, HubSpot's sophisticated chatbot and live chat feature can be seamlessly integrated into your site to ensure that your audience gets the information they need when they need it.
Pricing starts at $50 a month in the starter pack, up to $3200 for the enterprise package. But note that all packages include a number of features alongside live chat.
6. Moosend
Email marketing has been shown to have some of the best ROI—better than social media, organic search, and digital advertising.
At the same time, creating emails and newsletters that are attractive enough to be opened and to lead to website visits is a challenge.
But designing great emails doesn't have to be a chore anymore. There are a number of online resources that have made the creation and distribution of emails much easier.
Startups can use email marketing software like Moosend which has a simple drag-and-drop email template creator that allows you to slot in visuals and information into your emails.
Moosend also sends emails to your subscriber list and collects real-time data that you can analyze later.
For startups, Moosend has a free package up to 1000 subscribers and from then on, you pay in monthly increments, which is a great way to build your email marketing system.
7. Poptin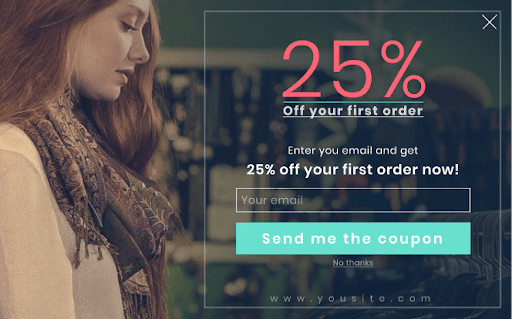 A major first step in your email marketing campaign is capturing the email addresses of potential customers.
This is a challenge for startups who are constantly looking for new ways to get subscribers without being intrusive or aggressive.
A great way to build your email list is by using attractive contact forms on your website or creating WordPress and Shopify popups, which is exactly what Poptin does so well.
Poptin easily integrates into a variety of websites and in email newsletters, making it easier for small businesses to gather email lists and engage with their potential clientele.
Businesses have the option of starting with a free package and going up to the Pro package of $49 per month, or the Agency package of $99 per month, all for unlimited popups and forms.
8. Venngage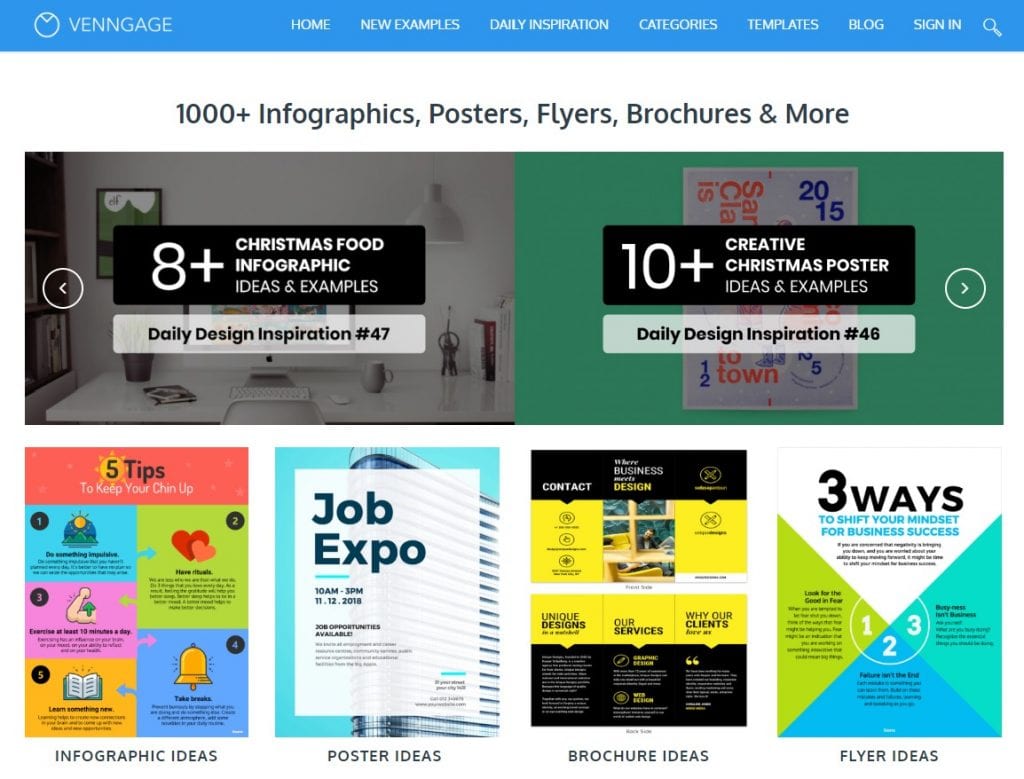 Creating beautiful content that will halt a reader's attention in the sea of content available on the internet is a major hurdle for small businesses.
It isn't always possible to take in-house photographs—companies simply do not have the human resources for this. Additionally, getting outside resources isn't a budget-friendly option.
So, how does one go about making attractive visual content without breaking the bank or working overtime?
An online resource like Venngage, that offers everything from PowerPoint design ideas to infographics, white papers, and posters, is ideal for startups and small businesses.
Venngage has a variety of free templates on offer that are easily customizable.
Plus, the resource includes a 'My Brand Kit' section where you can upload your organization's logo, colors, and fonts, to be applied across all your designs.
And Venngage isn't hard on the pocket either—it has a free package and goes up to $49 per month for the business package.
For a small amount of money, you can make stunning graphics that will transform your content marketing and boost your views and sales.
9. Vyper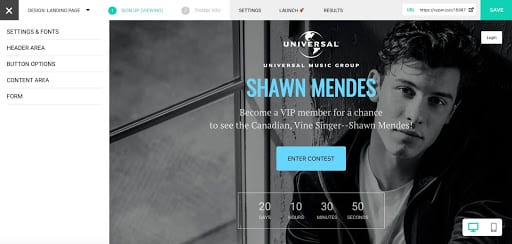 To grow your brand and awareness, you need to keep audiences engaged.
With gamification becoming a popular method of engagement, running a contest seems to be the best way to boost your digital presence.
Which is why a giveaway app like Vyper is such an important tool in a content marketer's arsenal.
Vyper allows you to create referral campaigns and giveaways, and they have plenty of use cases that demonstrate how their tools have grown the customer bases of their clients.
The great thing about Vyper is that it can be customized to match your brand identity and has several modern designs that you can use to create high-quality content.
And with a pricing scheme that starts from zero dollars up to $299 a month for agencies, Vyper is a great resource for building your clientele and community.
10. Visme.co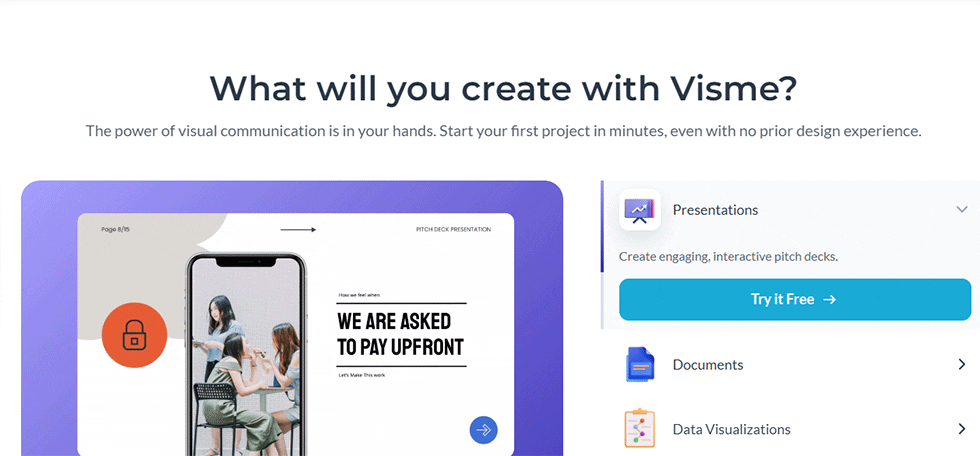 Visual communication is very important because it increases user engagement and makes the long-form text more appealing. Visme is a visual content creation platform that lets you add movement to your brand strategy creating visual communication content like videos, infographics, presentations & animation in minutes. The best thing is that Visme has a great variety of templates, so it's very easy to use, yet it can be used to create professional-looking assets. Plus, it has a collection of native integrations, so you can connect Visme to other tools you already use.
Conclusion
Content marketing is all the rage but it can be difficult to keep the content engine running.
These eight tools will make it easier for you to create and distribute amazing content, without breaking the bank or having to put in too many extra hours.