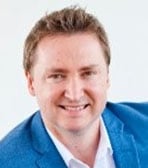 Wayne joined Deloitte Consulting in Sydney after graduating from Bond University. His specialties include business development, sales pitch development, business case modelling, capital raising, M&A transaction support, and business planning throughout the Asia-Pacific region.
His early career focus was revenue assurance for telecom service providers, in the then newly deregulated Australian market. As part of the Deloitte Telecommunications & Media Team, he spent many long nights with service providers mapping out internal revenue assurance processes. During his time with Deloitte he completed his CA accreditation and earned a diploma in Mandarin at Beijing University.
Wayne's experience with startups began in the corporate arena at SingTel Optus. Most of his time was invested in business case development for over 10 corporate New Technology Introduction (NTI) projects, the largest of which was the introduction of Virgin Mobile to the Australian market. Following SingTel Optus, Wayne joined his first non-corporate startup project, ReelTime. ReelTime's seed funding was via an IPO, so he had to learn the hard way how to deal with public relations, investment community, and operational deliverables in "real-time." As COO, Wayne built the organisation from ground up, and delivered the world's first download-to-burn IPTV service. After successfully completing the startup, ReelTime was sold to competitor, EzyDVD. His experience spans CFO/COO roles in a variety of publicly listed microcaps where he has completed 4 capital raisings, 3 M&A acquisitions and 1 M&A divestment. His experience extends outside the commercial function. Wayne has hands-on sales business development, working as a Strategic Account Manager for Cisco Systems where he is one of the few qualified accountants to earn Cisco Sales Champion (top 10% of global sales people).
Wayne is an active angel investor, focusing on early stage in the IT&T and renewable energy sectors. He is a foundation investor in Sunfunder, AESquared, and Graficly.
Contact Wayne to Learn More
If you'd like an assessment of your needs and a fee estimate, please let us know how to reach you: