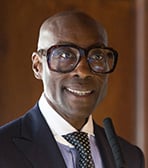 DeForrest has over 20 years' experience building businesses and driving strategic innovation in Consumer Product, Financial Services, Healthcare, Higher Education, Media, and Software industries. His focus is on strategic innovation, business and operating model improvement, investor management and governance, strategic partnerships to drive scale, ERP, and financial forecasts/modeling.
Growing businesses and improving operational efficiency have been hallmarks throughout DeForrest's career. First, during 12 years at JPMorgan Chase, he founded Global Markets VentureLab, a strategic incubator of disruptive ideas for a $3 billion revenue division of the firm. After VentureLab, DeForrest led the commercialization efforts of LabMorgan, the firm-wide new venture incubation and technology accelerator.
Since then, DeForrest has been a C-level executive at start-ups and turn-around situations. He understands the challenges of creating competitive advantages and driving new streams of value within a broader environment of rapidly changing technologies and greater customer sophistication. DeForrest believes that advice and services for clients should not be "off-the-shelf" because value creation is unique to each company – based upon its culture, ecosystem of constituents, and capacity.
DeForrest has also provided his strategic thinking to the non-profit sector. He was a four-year board member of Teach for America New York, an organization widely recognized for its innovation in creating a national teaching corps of recent college graduates. In addition, DeForrest currently serves as Board Chair for Harvard Alumni Entrepreneurs New York.
DeForrest earned his A.B. in Government at Harvard University.
Contact DeForrest to Learn More
If you'd like an assessment of your needs and a fee estimate, please let us know how to reach you: