Demystifying TAM, SAM, and SOM to Define your Market's Size
"How big is the market you are targeting?" is a common question an investor will ask an entrepreneur. After all, investors want to invest in large and rapidly growing markets. Most entrepreneurs hesitate to answer this question. What if they are far off from a VC's idea of the size of a market? VCs will also throw terms like TAM, SAM, and SOM at an entrepreneur in a rapid-fire fashion.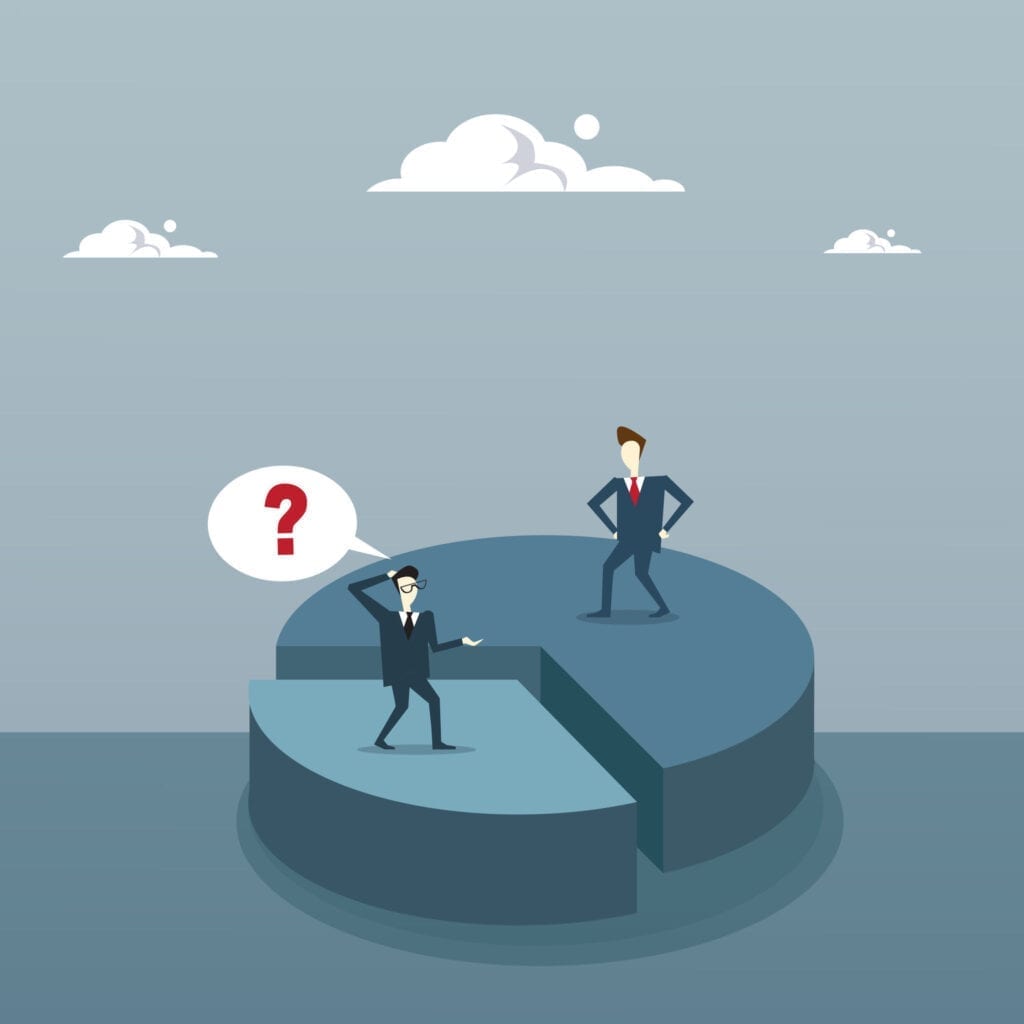 There is no need to be intimidated by these acronyms. Here is a quick recap of what these terms mean:
Total Available Market (TAM): It refers to the combined revenues (or unit sales) of all the companies in a specific market on an annualized basis. Typically, an investor will want to know the TAM in the US, or North America, and the Rest of the World, and its growth over the next five years. You need to be aware of the billion Chinese market fallacy. Just because there are 1.3 billion people in China, all of them will not buy your product in a single year. Similarly, you can't take a random share of a population and call it your TAM. It is best to add up sales of leading companies in a specific geography or market segment to get a better idea of TAM for existing product categories. For example, to get a good idea of TAM for shoes, starting with adding up the sales of leading shoemakers like Nike, Adidas, Cole Haan, and Clarks would be a good start. Industry associations, like the National Shoe Retailers Association, are a great source of market data. For entirely new products, it can be challenging to forecast TAM. What was the TAM for smartphones before Apple introduced the iPhone? Hard to say. But at the time, it would have been prudent to add up all the cellular phone sales and consider that to be the TAM. Apple significantly expanded the cell phone market by creating a new category and has dominated this segment's profits, even though its unit share is behind other competitors.
Served Available Market (SAM): It refers to the share of Total Available Market that the companies providing a specific solution can fulfill. For example, if the total available market for all shoes in the US is $20 Billion a year, the Served Available Market for companies making athletic shoes will be a slice of TAM. Similarly, if you are developing a smartphone app, you can be limited by the version of Android or iOS your app will run on. By definition, SAM is a subset of TAM.
Share of Market (SOM): It refers to what a particular company is planning to achieve over the next five years in terms of sales. By definition. SOM is less than SAM unless a company is a monopoly with 100% of the market.
The next diagram shows the relative relationship between TAM, SAM, and SOM: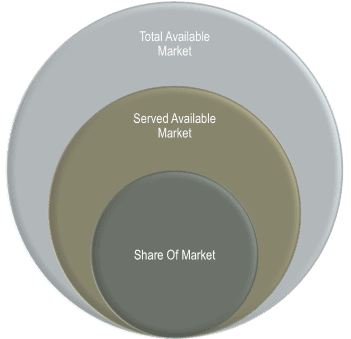 iPod and the portable music player market
Any product or service generally has to fit in a category of similar products or services. For example, the iPod competed within the category of portable music players, pioneered by the venerable Sony Walkman two decades earlier. Due to its ease of use, integration with iTunes, and the ability to purchase songs for $0.99 made it a category leader with over 70% of market share over the years. In this case, the TAM comprised all types of portable music players, such as Discman, Walkman, and digital players. The SAM comprised digital MP3 players, which accounted for a very small percentage of the overall category early last decade when the iPod was introduced. The SOM for iPod ended up greater than 70% over the years until the smartphone market absorbed it.
Peloton – the rise of indoor connected fitness
The fitness industry comprises traditional gyms like LA Fitness and Planet Fitness, as well as boutique brands such as Orangetheory, Equinox, and SoulCycle. Peloton was a new entrant that launched in 2012 with the premise of bringing an instructor-led fitness experience into consumers' homes.
After 6 years of its launch, it generated revenues of $915 million during fiscal 2019 ending in June 2019. The overall fitness industry's revenues were about $32 billion, thus giving Peloton a market share of about 2.9%. It reported sales of $1.9 billion for the fiscal year ending June 2020, registering an annual growth rate of 107%, while the overall fitness industry shrank dramatically due to the Covid-19 pandemic. Peloton has been a star performer on the stock market and is likely to continue to grow its market share. Their SOM is significant, and their SAM has grown to be a larger share of their TAM. Even though they are facing competition from new entrants such as Echelon and Hydrow, their market traction and loyal customer base will likely remain their main competitive advantage.
Research your market
How does one go about finding TAM and SAM?
The first step is to conduct thorough market research. You need credible sources such as Gartner, Forrester, Dataquest, IDC, Meta, and Yankee Group. Their original research is expensive, costing several thousands of dollars. But they often get quoted in financial or national press such as The Wall Street Journal or the New York Times. Investment banks are another great source of market size data. Goldman Sachs, Merrill Lynch, Morgan Stanley, and other banks have significant research arms that put out market forecasts regularly. Sometimes, these market size numbers are mentioned in stock analyst reports. If you have an account with a discount brokerage firm such as Fidelity or Schwab, you will have access to some stock analyst reports. If your competitor is a public company, sometimes their SEC filings can be a goldmine of information. You can use sources such as Edgar or 10K Wizard to search public filing documents. Established competitors' websites are also a great source of market information. For example, if your company has anything to do with computer networking products or services, Cisco's website is a great source of market trends and competitive information.
Public companies are required to share information about market forces that affect their business, with analysts and investors alike. Quarterly and annual reports are often available on the investor pages of a company's website.
TAM and SAM have to be backed by credible market data. If you are creating a brand-new category that never existed before, you will need to get data about what particular product or service you will replace. Office desktop computers replaced typewriters during the '70s and '80s. There was no way to forecast how many terminals or PCs would be needed in a business, but replacing the existing number of typewriters would have been a good start.
Bottom-up SOM forecast
Share of Market (SOM) data has to be backed by a bottom-up forecast, detailing how resources are utilized to achieve revenue goals. The number of sales professionals and channels employed, advertising spending, degree of newness, and the ability to disrupt a market with a dramatically lower price point figure in building a SOM forecast. It is best to build three forecast scenarios: Optimistic, Most Likely, and Pessimistic. Use a spreadsheet for best-case / worst-case analysis and its impact on cash flow and profitability. Investors want to see when your company will become cash flow positive, and when it will break even.
Even then, most likely these numbers will need revision within a few months of product launch. This is why a business plan is a living document that needs to be updated regularly. In general, forecasting SOM greater than 10% is going to require a good deal of justification. It is better to beat your forecast rather than explain why you did not reach the numbers you promised the investors.
Above all, investors want to see if you understand the challenges of building a business from the bottom up. They want to invest in people who have a clear picture of the competitive landscape and the passion for succeeding.
Related Services: Market & Competitor Research & Analysis.